---
About Us
We are a 40 something (well, we're inching toward being called 50ish!) Cape Cod couple living in the small and tranquil town of East Sandwich, MA with two teens and three cats. Our teens, one in college and the other fast approaching, are busy studying, working or hanging out with their friends these days which leaves us more free time to spend together as a couple.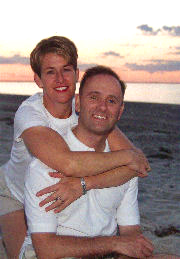 Occasionally, we're able to drag them to a bike trail or beach, but it usually involves some level of extortion.
Exploring the Cape as a couple is a lot simpler. We no longer have to eat lunch at a particular time or place and we can even duck into a restaurant and eat at the bar. We can do sushi or funky sandwiches. We can browse the many antiques shops without the fear of the kids accidentally knocking into a centuries old vase and without hearing the moans of 'not another store' from the back seat of the car.
When we are not out exploring the Cape, we're working from home in the medical publishing field and freelance writing markets. Karen writes for several blogs including FlipKey.com, a terrific site for vacation rentals not only for Cape houses but throughout the world. If you like vacation home rentals, this is our recommended 'go-to" site.
We're delighted you've stopped by. Each day we'll put up more information so do come back often and see what's new. We'll find the latest restaurants, the most romantic B&Bs, the best beaches and anything else we find to do. We'll also list plays, golf courses, concerts, and unique shops we find. You'll hear from locals who will tell you what you can't miss and what you can probably do without.
These are honest opinions, not driven by advertising and unlike Chamber of Commerce sites, we don't have to list and promote every restaurant or every B&B just because they're members! And that's good news for you.
And if you have a favorite restaurant, beach or activity you'd like to share, email us! We'd love to hear about it.
Meet Francois du Cap Moreau~Frenchy

Restaurant Reviewer Extraordinaire
We are thrilled that Frenchy will be writing reviews for us here at Cape Cod for Couples! He knows his food, loves to cook and eat, and is a fabulous writer.

You can read more about Frenchy on www.frenchyshouseparty.com

Here's an introduction from Frenchy:

This is my inaugural review for Cape Cod for Couples and I hope that I will be able to assist you folks in finding some really fine food and places to enjoy it without breaking the bank.

First let me give you my "CV". I grew up in the Providence area and went to cooking school at Johnson and Wales Culinary School.

Like most everyone else who went there my work experience has run the gamut from cooking, managing and even teaching cooking in an academic setting to bar tending, waiting on tables, managing restaurants and finally as Director of Catering at Chatham Bars Inn.

I have been "around the block" shall I say in the food biz so I believe this experience will bear some insight into the local fare being offered here on Cape Cod. So without any further ado; Musique... lumières!











Return from About Us to Cape Cod for Couples Home