---
Cape Cod Activities
We consider ourselves an active couple and find that there are enough Cape Cod activities to keep us busy pretty much for the entire summer and fall. Whether it's biking on the Cape Cod Rail Trail, kayaking on Scorton Creek, or even surfing at Cahoon Hollow, there is certainly no shortage of things for active couples to do on Cape Cod.
If you're in fairly good physical shape, have a strong sense of adventure, and don't mind stepping out of your comfort zone every now and then, there's no doubt you can have an exhilarating time testing yourself and each other in any number of Cape Cod activities.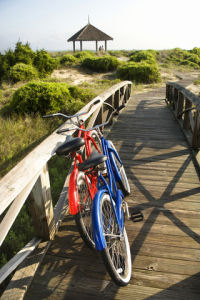 Take biking, for instance. Cape Cod has eight bike trails that require varying degrees of physical exertion, from the super flat Cape Cod Canal Bikeway that requires little more than for you to sit and gently peddle, to the fairly tough Provincelands Trail, which, while hardly the Tour de France, will certainly get your blood pumping as you traverse the dunes of Provincetown. We give you a complete run down of how to get to each one and what to expect when you get there.
Then there are dozens of walking trails. Like the various bike trails, these can range from a quiet stroll through the woods (Ryder Conservation Lands in Sandwich), to a heart-pumping hike along 50 to 100 foot sand dunes (Sandy Neck Recreation Area in Barnstable). Every one of Cape Cod's 15 towns has at least a handful of designated walking trails so, wherever you're staying, you'll never have a shortage of places to walk.
But for many visiting couples, the most exciting Cape Cod activities involve the water in some way. With almost 600 miles of shoreline and hundreds of ponds and creeks, there certainly is no shortage of things for active couples to do on the water.
Cape Cod is a breezy place (one of the things that keeps summer temperatures so much more tolerable than the rest of Massachusetts) and that makes windsurfing one the Cape Cod activities that's highest on our to-do list this coming summer. You can do this on either the ocean if you're experienced or, if not, there are plenty of ponds that lack the waves and currents that could prove a challenge if you don't know how to handle them.
One of the most popular places is on Old Silver Beach in Falmouth, where we've often stopped on our way along the Shining Sea Bike Path to watch the windsurfers. The waters there are quite warm and calm enough, and the southwest breezes quite strong enough that a competent windsurfer can get up to some pretty decent speeds, and be half way to Martha's Vineyard without too much trouble.
Less strenuous, but still a lot of fun is kayaking. We live near Scorton Creek in East Sandwich where kayaking through the salt marsh is a great way not only to relax, but to experience a unique ecosystem from ground level. There are plenty of places all along the Cape where you can rent kayaks (as well as canoes), and many that offer guided tours, along with basic instruction in paddling and general kayak safety for those who need it.
Scorton Creek is one of many places all along the Cape that you can kayak, including in the ocean, which of course, is a slightly more challenging experience.


Return from Cape Cod Activities to Home