Click to bookmark this page!
---
Cape Cod Facts
Cape Cod is a fascinating place so we've listed a few Cape Cod facts that will give you a pretty good idea of what to expect when you arrive for your visit. From geographic features and weather to history and culture, and a run-down of useful phone numbers and web sites you might need.
And you'll want to know which radio stations to listen to on the car radio, so we can give you a run-down of those. And while we certainly hope you'll never need them, we'll give you all the numbers of the various emergency services and health care providers on the Cape.



Geography
Cape Cod is the small peninsular that juts out into the North Atlantic about 60 miles south of Boston, Massachusetts. It is shaped like the flexed arm of a muscular man, with a wide "bicep" heading west to east, a bended elbow and "forearm" heading north, and a clenched fist at the very end.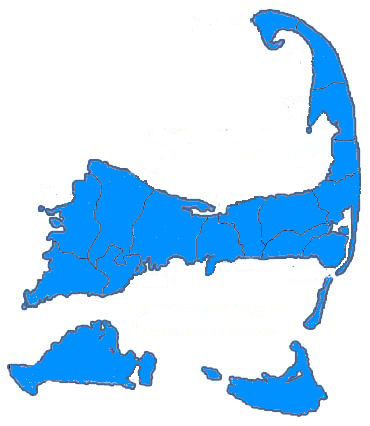 Although frequently referred to as "the mainland," mostly when compared to Martha's Vineyard or Nantucket, it is actually an "island" itself, albeit a man-made one.
The Cape covers an area of 412 square miles and is 65 miles long, but its coastline is almost ten times that length at 559.6 miles. In addition to this coastline, there are literally hundreds of fresh water ponds, some of which have their own beaches. The largest of these is Long Pond in Harwich and Brewster (743 acres) with the deepest being Wakeby Pond in Mashpee (95 feet).
The terrain is mostly sandy (particularly in the lower Cape, where there are some pretty impressive sand dunes) and mostly flat. The highest point is only about 300 feet above sea level.
Locals divide the peninsular into four distinct regions. These are (from west to east) the Upper Cape (Sandwich, Bourne, Falmouth and Mashpee), the Mid-Cape (Barnstable, Yarmouth and Dennis), the Lower Cape (Harwich, Brewster, Chatham, Orleans) and the Outer Cape (Eastham, Truro, Wellfleet and Provincetown).


History
The recorded history of Cape Cod dates back to before the time of the pilgrims when mariner Bartholomew Gosnold sailed the New England coast in 1602, naming things as he went and giving the name 'Cape Cod' to this sandy peninsula.
When the Pilgrims first landed in the New World in November 1620, they first came ashore at Provincetown, where they rested and drafted and signed the Mayflower Compact before sailing westward and forming a permanent settlement at Plymouth.
Later settlers were more inclined to stay on the Cape, founding fishing villages along the coasts, drawing boat builders and salt makers to support the fishing industry, and eventually attracting farmers to work the cranberry bogs, and whaling ships to meet the nation's growing demand for oil and whalebone.
In the mid-1800s, Henry David Thoreau made a walking tour of Cape Cod, reporting on the peninsula and no doubt helping it to became a popular summer vacation destination for wealthy families from Boston and Providence.
In 1879, Cape Cod was connected to Europe by an undersea telephone cable, which ran from Orleans to Brest in France, a distance of 4,000 miles. In the early 1900s, Guglielmo Marconi set up a wireless telegraph station on the beach in South Wellfleet to communicate with Great Britain.
The station was the first to hear of and report the sinking of the Titanic in 1912. Marconi's name was given to the beach and to this day Marconi Beach is a popular place for tourists to visit.
At the beginning of the 20th century, the US government financed construction of the Cape Cod Canal (1909-14), which joined Buzzards Bay and Cape Cod Bay, cutting long hours off voyages between Boston and Providence or New York.
The Sagamore and Bourne bridges were built in the 1930s and the huge tourist boom that came along after World War II, as more and more families became car owners, changed the History of Cape Cod, turning it into a tourist destination first and foremost, and leaving its fishing, farming and whaling heritage firmly in the past.



Return from Cape Cod Facts to Home
---