---
Cape Cod Restaurants
There are countless Cape Cod Restaurants where visiting couples who love good food and wine can enjoy a fabulous dining experience. Whether it is al fresco dining with an ocean view that you're looking for or more formal five star luxury, the Cape has it all, with some of New England's top chefs plying their trade here.
Naturally, we've eaten at many of the Cape's restaurants and we'll list our own favorites here. We also have a lot of friends in the restaurant business, so we'll interview some of them and perhaps give you a deeper insight into what each of our profiled Cape Cod restaurants has to offer.
And let's not forget that there is so much more to dining on Cape Cod than just the restaurants. Some of our favorite places to eat include scruffy roadside clam shacks, or coffee and pastries at a quaint French bakery or tea shop. And a classic New England clambake is something that all visiting couples will want to try.
And you're probably going to want some wine with all that fine dining. We have a couple of vineyards on Cape Cod, Truro Vineyards of Cape Cod and Cape Cod Winery. Both offer tours and tastings, and that's a terrific way to spend an afternoon.
And let's not forget the various food related festivals held on Cape Cod each year that celebrate both the agricultural heritage and the fishing history of the area. Some of the best known include the Bourne Scallop Fest, the Harwich Cranberry Festival, and the Wellfleet OysterFest, but there are many others, many of which are sponsored by local Cape Cod restaurants who use the events to showcase their prize offerings.
As you can see, we have a lot to show you so let's start with the Cape Cod restaurants. We've listed below some of the better known ones in each town. Each listing has a live link that will take you to one of two places. Either, you'll be sent directly to that restaurant's website or you'll be sent to our own independent review. Do note that the reviews represent the opinions of just two people, so take that for what it's worth.
Here, then, is our Couple's Guide to Cape Cod Restaurants.

Couples Cape Cod Restaurants Guide
Upper Cape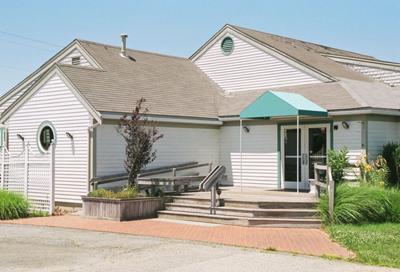 Aqua Grille, Sandwich
Aqua Grille is a great restaurant choice if you are vacationing in or around Sandwich, Ma. Tucked away in the Sandwich Marina, with great views of the Cape Cod Canal, Aqua Grille offers fresh seafood, steaks and German dishes.
Vegetarians will find plenty of options here, too. more...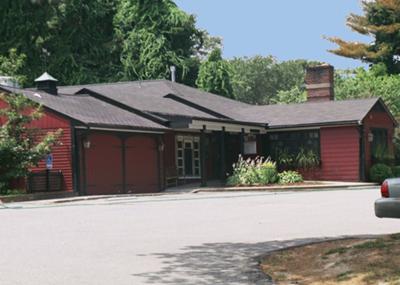 British Beer Company, Sandwich
The British Beer Company in Sandwich Massachusetts, is one of three BBC locations on Cape Cod (there are several more off-Cape) and is a reasonably good spot to enjoy a quick lunch or dinner.
The restaurant is set out like an English-style pub, although it's more Disney-esque than authentic Old King's Head. more...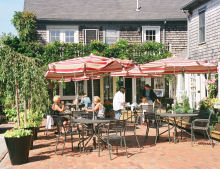 Cafe Chew, Sandwich
Located in Sandwich, Massachusetts, Cafe Chew is one of the newest Cape Cod restaurants opening last summer with a splash.
For such a small town, Sandwich has some pretty darn good restaurants to grab breakfast, lunch or dinner. And Cafe Chew is one of our Sandwich Top Picks! more...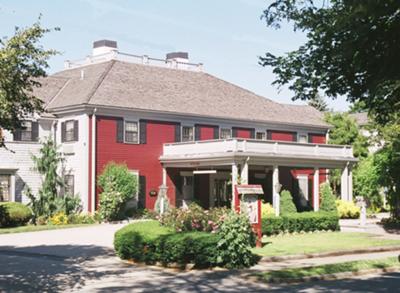 Dan'l Webster Inn, Sandwich
Daniel Webster Inn and Restaurant sits in the middle of the Sandwich Village and if you like Colonial decor, then this is the place for you.
We aren't big fans of Colonial motif but we've had some great meals here in both the more formal dining room and the Tavern. more...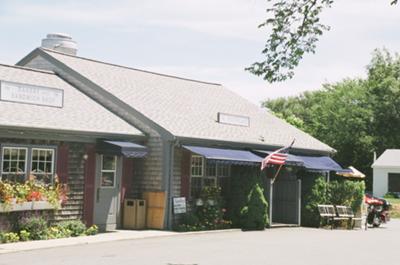 Marshland Restaurant, Sandwich
Marshland Restaurant and Marshland Too are two great spots to sample home style New England cooking in an informal setting.
The original Marshland on Route 6A in Sandwich and Marshland Too on Cotuit Road in South Sandwich remains a favorite spot to grab more...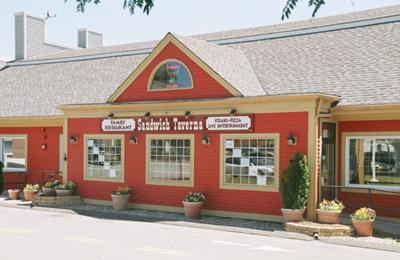 Sandwich Taverna, Sandwich
Located in Tradewinds Plaza in Sandwich, the Sandwich Taverna has a strong southwestern feel and bills itself as Sandwich's Premier Steakhouse, but somehow it hasn't really lived up to that title.
Sandwich's best burger joint might be more appropriate. more...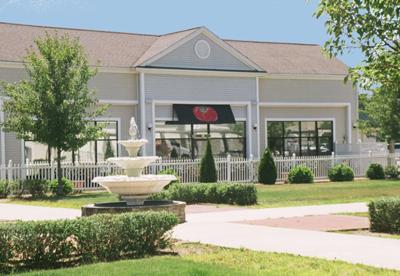 Tomatoes Italian Bar and Grille, Sandwich
Tomatoes Italian Bar and Grille is our favorite Italian restaurant on Cape Cod and it happens to be located right in our home town of Sandwich.
It's our local hang out and is one of the more lively restaurants in Sandwich.
Don't let the outside fool you. It's as urban as the more...
Mid Cape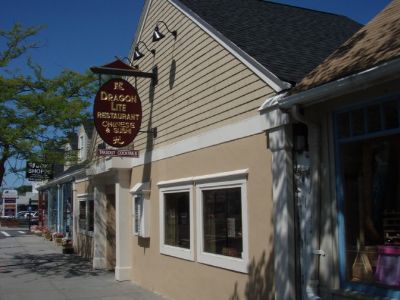 Dragon Lite Restaurant, Hyannis
Dragon Lite on Main Street in Hyannis is a pretty decent Chinese Restaurant offering Szechuan, Mandarin, Cantonese and Sushi along with great service. We always order Chicken and broccoli with garlic sauce, though its not on their regular menu. more...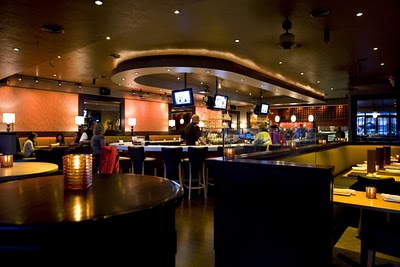 Embargo, Hyannis
Located smack in the middle of Main Street, and about as funky as one can get without heading up to P-town, Embargo has dozens of cold and hot tapas from the Cape inspired tempura Cod fingers to lamb lollipops with a pomegranate molasses sauce.
They also do a mean Martini and offer entertainment later in the evenings... more...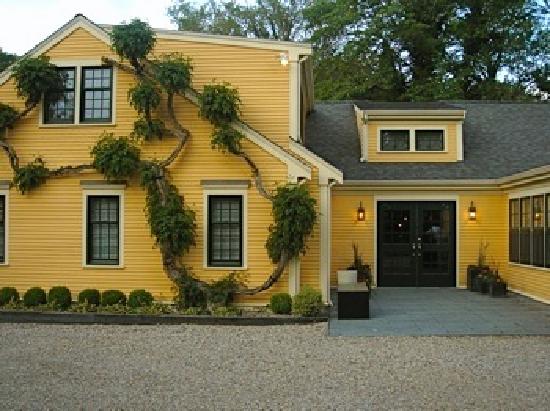 Lyric Restaurant, Yarmouthport
We ventured to Lyric Restaurant the other night to celebrate a birthday (mine), and took our teenage vegetarian daughter along for the festivities. And if you are looking for vegetarian options, you'll have trouble here unless you ask your server to check with the chef. We like to see vegetarian items listed on the menu. more...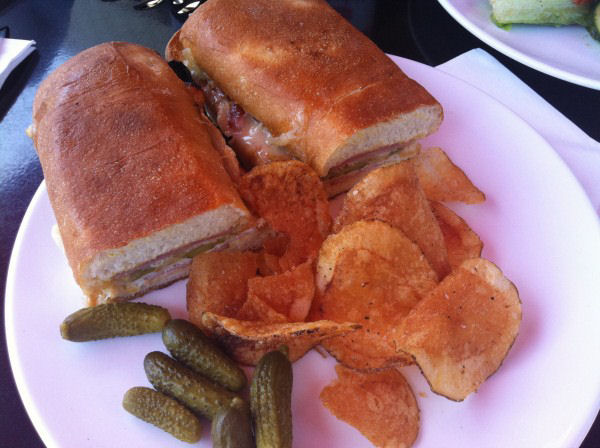 Pain D'Avignon, Hyannis
Almost immediately you are transported to the boulangeries that you see all over France. Lots of small tables and refrigerated cases of salads, pastries (not a great selection of those... but it is a boulangerie not a patisserie) and a whole wall lined with baskets of fresh breads and rolls. You'll also find a great selection of small baguettes called demi-baguettes that have very simple fillings like ham and brie with just sweet butter spread on the bread ... more...
Lower Cape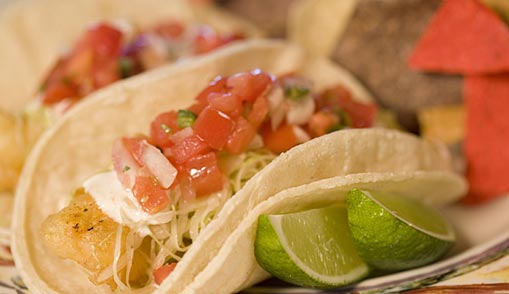 El Guapo's Taqueria, Brewster
El Guapo's Taqueria in Brewster is a funky little restaurant offering simple and fresh Mexican fare, from carne asada to fish tacos. Located adjacent to the Cape Cod Rail Trail, El Guapo's is a great place to grab lunch and take a break.
more...
Outer Cape
Karoo Kafe, Provincetown
Karoo Kafe is the type of restaurant that each time you walk by, you say something like, "We should try that someday."

Well, we just happened to be biking Province Lands and pedaled into Provincetown, with beachy hair, no make up (Karen), faces colored by that notoriously difficult bike path and the blazing sun when we decided today was the day to taste South African cuisine.
more...

The Beachcomber, Wellfleet
The Wellfleet Beachcomber, or the Beachcomber, is the town of Wellfleet's most recognized restaurant and is known for its hip beachy vibe, their impressive raw bar, and great music. It also reminds of us our lost youth!
We'll pack the car early on a Saturday morning with all our beach paraphernalia, and head out to Cahoon Hollow, our favorite more...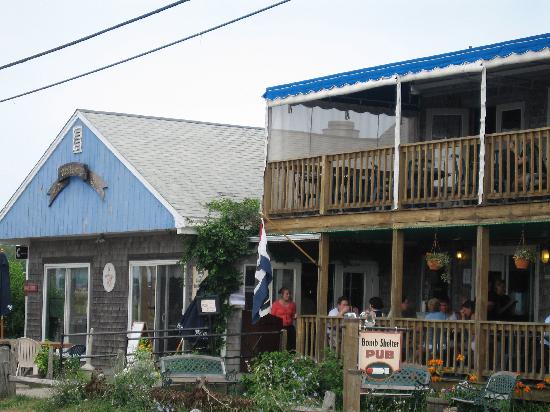 The Bookstore, Wellfleet
The Bookstore serves breakfast, lunch and dinner at reasonable prices, offering everything from the usual fried and broiled seafood items to pastas, burgers, sandwiches and stews.
We love their clam chowder and the seafood reuben. Yes, I know that sounds odd, especially to this born and bred New Yorker, but it works. A nice sized more...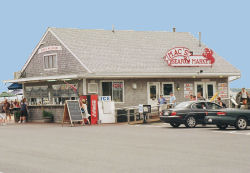 Mac's Seafood, Wellfleet
Mac's Seafood, on the Wellfleet Town Pier, is a typical seafood shack, sitting smack in the middle of the tiny but bustling Wellfleet Harbor.
Mac's is always busy, with lines of vacationers and locals waiting for their seafood fix. Serving up fried and broiled fish, clams, more...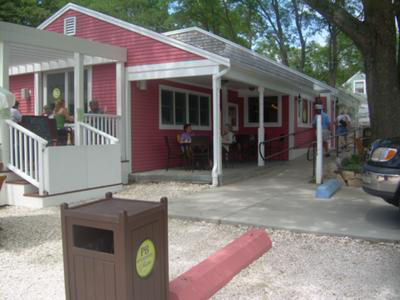 PB Boulangerie Bistro, Wellfleet
PB Boulangerie is a little jewel - a bistro and bakery offering classically French dishes, breads and pastries.
Chef Philippe Rispoli, who has worked with noted French chef and restauranteur Daniel Boulud, and Baker Boris Villatte, worked extensively in France before bringing their years of knowledge and more...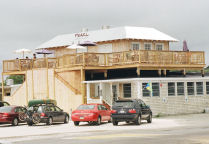 Pearl, Wellfleet
Pearl's roof top deck overlooks the Wellfleet Pier and has great views of Duck Creek. It's close to Wellflleet pier and a number of other restaaurants that are located in and around Wellfleet harbor.
It also has a great raw bar complete with the ubiquitous Wellfleet oysters. more...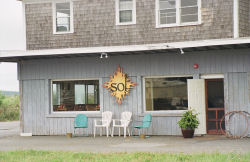 Sol, Wellfleet
Sol's is the newest of the Wellfleet Restaurants, just around the corner from Mac's Seafood and up the street from the Bookstore. It is attached to W.H.A.T (the Wellfleet Harbor Actor's Theatre), its interior is a bit funky and it has an Asian inspried menu. more...
Jimmy's Hideaway, Provincetown
Jimmy's Hideaway is hidden away behind Commercial Street, but it's well worth searching out. The main dining room and bar are cozy and intimate. The back room, though, has lots of windows offering views of a lovely garden and the ocean beyond.
The staff are friendly, the cocktails robust and the food is excellent.

Review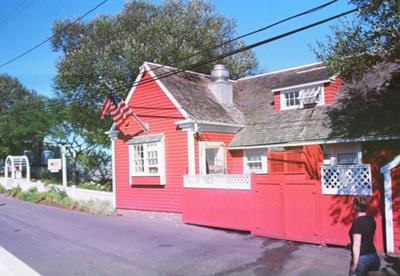 The Red Inn, Provincetown The Red Inn offers beautiful views of Provincetown Harbor and a menu that changes with the seasons, featuring the very best local seafood.
The restaurant recently won Cape Cod Life magazine's Gold Medal Award for best fine dining and Boston Magazine's "Best of Boston" award for best seafood on the Cape and the Islands.

Review

Restaurant owners, if you have a Cape Cod restautant you would like us to include, you can have it listed here by filling out our submission form. If you can send us a photo, too, and a brief description of your restaurant, we'll get you listed right away.
Return from Cape Cod Restaurants to Home