Cape Cod Whale Watching, Boating
and Other Nautical Fun

Whether it's a Cape Cod whale watching trip to Stellwagen Bank, a day of Cape Cod deep sea fishing, or just a quiet afternoon boating along the canal, the Cape offers a whole range of activities for couples who want to spend time on the ocean.
Boating on the waters that surround Cape Cod is one of the main reasons many couples visit, and the maritime industry has been at the heart of the Cape's economy for hundreds of years.
Hyannis even has a museum dedicated to Cape's maritime history and its relationship with the seas. The Cape Cod Maritime Museum is located on South Street and open from March to December from 10:00am-4:00pm most days.
There are five main bodies of water that surround the Cape, Cape Cod Bay to the north, Vineyard Sound and Nantucket Sound to the south, Buzzards Bay to the west of Falmouth and Bourne, and the mighty Atlantic Ocean to the east.
Each of these offers something a little different to visitors and each offers different challenges to boaters and sailors. These are notoriously treacherous waters and should only be navigated by nautical experts.
If you do not have some serious nautical expertise of your own, you really are better off hiring the services of someone who does. There are hundreds of ways to do just that, and we'll take you through them in this part of the site.
A Cape Cod whale watching trip is the quintessential day trip that literally millions of visitors have made over the years.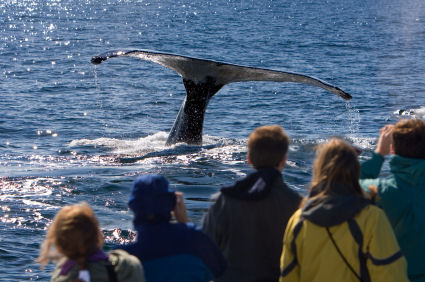 It is a perfect way not only to bond with the ocean and these magnificent creatures that live in it, but also glimpse a piece of Cape Cod's own history and relationship with the sea.
The Cape and Islands were once the whaling center of the universe, with tiny Provincetown once staking a claim to being the fifth largest whaling port in the world. Nowadays, thankfully, the hunts are carried out with cameras, rather than harpoons, and eco-tourism is the name of the game.
There are a number of companies that offer whale watching trips, departing from either Provincetown, Barnstable or Plymouth. Most will take you out to Stellwagen Bank, which is an 800 square mile federally protected marine sanctuary whose southern end is just off the coast of P-Town.
The shape of this underwater plateau forces deep sea currents to rise to the surface, bringing nutrients with them. That makes the area a perfect feeding ground for whales, and a perfect destination for Cape Cod whale watching trips...more
Cape Cod Deep Sea Fishing
There are countless opportunities for sport fishing for striped bass, blue fish, blue fin tuna or even sharks. We definitely recommend taking a charter whose crew will know where to find the best fishing and at what time of day.
The best ones will have the latest electronic tracking systems to find the fish, they'll provide all the tackle and instruction you'll need, and will even clean your catch for you.
Cape Cod Power Boat Rentals
Although we generally do not recommend taking a boat out onto the open ocean unless you have significant nautical experience, one exception is to rent a power boat and stay within the limited rental range specified by the rental agreement.
One place to do that is Ship Shops at the mouth of the Bass River in Yarmouth. There you can rent a 16 foot to 22 foot power boat by the day, by the half day or by the hour (actually, the minimum is 2 hours) and enjoy a day on either the Bass River or Nantucket Sound (not too far from shore) that requires no license and very little in the way of seafaring experience.
Their boats are equipped with a Global Positioning System that makes it easy to navigate and almost impossible to get lost.
Cape Cod Cruises
For couples who don't feel up to handling the nautical duties themselves, there are several ways to enjoy the ocean under other people's guidance by takig any number of available Cape Cod Cruises.
Hy-line is the largest company on Cape that offers cruises that can be anything from a quick jaunt around Hyannis Harbor to a music cruise along the Canal.
Hy-line is also one of three companies that operate Cape Cod ferry service to Nantucket and Martha'a Vineyard.
Return from Cape Cod Whale Watching and Other Nautical Fun to Home