---
Heritage Museum and Gardens - Formerly Heritage Plantation
Heritage Museum and Gardens, formerly known as Heritage Plantation, comprises 100 acres of beautifully landscaped gardens over-looking Upper Shawme Lake in our own home town of Sandwich, Massachusetts.
The gardens are one of the town's biggest tourist attractions, bringing in up to 100,000 visitors each year.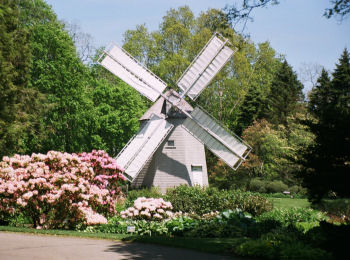 The Windmill at Heritage Museum and Gardens

There are also wooded trails, a café, an outdoor concert stage, three museums, and even a windmill, all located about three-quarters-of-a-mile outside of Sandwich's town center, heading west, at the intersection of Grove and Pine Streets.

The gardens started life in 1967 when pharmaceuticals magnate Josiah K. Lilly III (heir to the Eli Lilly & Co. pharmaceutical empire) purchased what had been the Dexter Estate with plans to turn it into a nonprofit museum. They were first opened to the public in 1969.

Several members of the Lilly family, including Joe Lilly himself, had been avid collectors of everything from gold coins to the manuscripts and memorabilia of 19th Century composer Stephen C. Foster.

It was Joe Lilly's collections of military miniatures, stamps and 18th Century paintings that would form the backbone of the three Heritage Plantation museums. One of the museums is the J.K. Lilly III Automobile Museum that is housed in the Shaker Round Barn close to the main entrance.

The collection of over 30 classic and antique cars features Joe's own collection, as well as several from his father's collection. These include a 1930 yellow-and-green Duesenberg built for Gary Cooper, a 1919 Pierce-Arrow, a 1915 Milburn Light Electric, and a 1911 Stanley Steamer.
The round Shaker Barn Houses the J.K. Lilly III Automobile Museum

The American History Museum houses antique firearms, as well as a collection of 2,000 hand-painted miniature soldiers, military uniforms, and Native American arts.

And the Art Museum features an extensive collection of American folk art, items of Americana, such as Nantucket Baskets, weathervanes, and shop signs, antique toys like the 1920 Hubley Royal Circus, and a beautifully reconditioned, fully-working 1912 Coney Island-style carousel.

But it's the gardens that really make the place so special, particularly from late May to early June, when the Rhododendrons are in full bloom, and from mid-July to early August, when the daylilies are at their peak.

Paths and walkways crisscross the property, giving every visitor ample opportunity to explore what is arguably Cape Cod's finest horticultural wonder.

Heritage Museum and Gardens also offers a number of community activities, including regular Friday family movie nights, Yoga in the Gardens, the September to Remember Flower Show, and the gardens make the perfect host location for the Cape Cod Life Food & Wine Festival Finale in June.

During the summertime, concerts are held on the outdoor stage, usually on Wednesday or Saturday evening or Sunday afternoons.



Key Information
Location: 67 Grove Street, Sandwich, MA
Hours: 10:00am-5:00pm Daily
Admission: Adults $12.00 (free with your Go Boston Card
).
Telephone: (508) 888-3300
Website: www.HeritageMuseumsandGardens.org
Independent Reviews
If you are familiar with this Cape Cod activity and would like to let others know what you think, you can submit a review right here (and even upload photos, if you like). The hope is that independent reviews will be helpful to other couples as they plan their own trips.
Return from Heritage Museum and Gardens to Sandwich Massachussets Cape Cod
Return from Heritage Museum and Gardens to Cape Cod for Couples Home