---
New England Vacation Spots Close to Cape Cod
While our natural inclination is to have you stay on Cape Cod for the entire duration of your stay, we understand that there are plenty of New England vacation spots off-Cape that visiting couples might want to take in while they are in the area.
Whether it's the spectacular fall foliage in the autumn, the bright lights of Boston or Providence, or the opulent mansions of Newport Rhode Island, there are dozens of New England vacation spots offering something for everyone.
If you're lucky enough to live close by, you may have plenty of opportunities to come back and visit other parts of New England. But couples who have traveled great distances to get to Cape Cod will surely want to spend at least some time off-Cape visting some other New England vacation spots.
To help you out, we've put together a list of places nearby that you might want to visit. We've also assembled a collection of links to sites like ours that focus on those other areas. Feel free to browse around these sites for ideas of places you might want to visit while here.
Boston
Boston is our favorite city, not too large and not too small, the place where we work and the economic and cultural epicenter of our entire region.

European visitors will be impressed that Boston is perhaps the American city that is most familiar to them, since it has a sense of history and an "old world" feel that is similar in many ways to the major European cities.

With a thriving theater district, world class shopping along Newbury Street, and three of the most storied sports teams in the nation, there is certainly no shortage of things to do. And Boston's place as the cradle of the American Revolution makes the Freedom Trail a "must do" activity for history buffs. More on Boston day trips



Lake Winnipesaukee, New Hampshire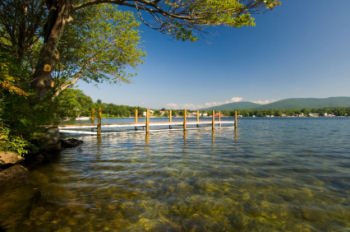 About two hours North of the Cape is one of our favorite New England vacation spots, Lake Winnipesaukee in New Hampshire. It really is worth the trip if you have time enough in your schedule.

The Lake itself is enormous, and offers all kinds of water-based recreational activities from sailing to swimming, and all points in between. But the Lakes Region is an area you can enjoy, even if you never get your feet wet.

There are a number of classic New England towns dotted all around the lake, and plenty to explore from antique shops to romantic bed and breakfasts. And the fall foliage is spectacularly beautiful.

The Lake Winnipesaukee Travel Guide will help you find all of the hidden treasures in the lakes region of New Hampshire. Find the best places to go boating, skiing, fun activities, day trips, berry and apple picking, shopping, best restaurants, great places to stay and more.



Newport, Rhode Island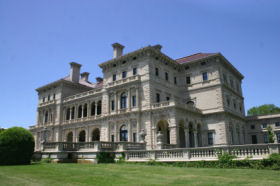 Newport Rhode Island is about a ninety minute drive from the Bourne Bridge (add time accordingly if you're staying further down Cape) along Route 195 as far as Fall River, and then south on Route 24.

Known as "America's First Resort" by virtue of it being the summer home of some of the nation's earliest tycoons, this "City by the Sea" is also considered by some to be the "Sailing Capital of the World."

The Newport Cliff walk is well worth doing as it offers some spectacular ocean views as well as a chance to see some of the fantastic mansions of the gilded age. There is also ocean drive, which is very popular with tourists and locals alike, and music lovers will surely want to check out the Newport Folk and Jazz Festivals.

Newport Discovery Guide is a terrific site, run by a Newport native that will give you lots of information and ideas for things to do when you visit Newport.



York, Maine

York, Maine is about a two-and-a-half hour drive north from the Sagamore Bridge (add time accordingly if you're staying further down Cape) nestled on the Southern tip of Maine, just beyond the New Hampshire/Maine border.

This quintessential New England coastal town has something for everyone, from its famous lighthouse and picturesque harbor to its wonderful sandy beaches, and from historical museums to Maine's largest zoo.

You can walk across the Wiggly Bridge on York River or along the Cliff Walk to explore York's waterfront and coastline and nature lovers can visit Mount Agamenticus and enjoy the hiking, mountain biking, horseback riding, and views as far as Boston, Cape Elizabeth, and Mount Washington.

Inside York Maine Vacations is a top online travel guide to all of southern Maine, with a focus on the York Beach area. Dining discounts, vacation home rentals, day trips, whale watches, fishing charters, tourist attractions, and much, much more.



Nearby Vacation Spots Beyond New England
Gouverneur Hotels Located in Montreal, Ile-Charron, Three-Rivers, Shawinigan, St-Jean-sur-Richelieu, Seven-Islands, Rimouski, Ste-Adele and Rouyn-Noranda, Gouverneur Hotels offer comfortable rooms at affordable rates. They also offer meeting, conference and reception room rentals. Corporate rates are available and reservations can be made online.



Other Travel Resources
Travel Noteshe Travel Notes Online Guide to Travel provides country/state travel and tourist information, reviewed web sites, regular travel articles, and online ticketing for car hire, hotel reservations and discounted flights.










Return from New England Vacation Spots to Cape Cod for Couples Home