---
Bourne Scenic Park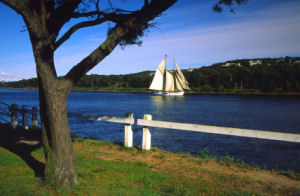 Nestled right underneath the Bourne Bridge on the "mainland" side of the Cape Cod Canal, the Bourne Scenic Park is the first campground you'll come to when you visit Cape Cod.
Couples should note that this really is a family campground, so there will be lots of children if you stay during school vacations.
Fall is a particularly popular time for couples to visit, perhaps because it offers arguably the best weather and fewer crowds.
The site offers some terrific views of the canal and its bridges, and it is one of a few Campgrounds on Cape Cod that allows campfires.
You can sleep in tents, rustic cabins, or drive a motor home or RV right into the park.
One downside is that you're barely on Cape Cod here, so any trips you might want to take down Cape will involve a significant drive. Traffic along that road can also be a nightmare, particularly on summer weekends.
Key Information
Location: 370 Scenic Highway, Bourne, MA 02532
Open: April-October
Price Range: $30-$60 per night
Telephone: (508) 759-7873
Website: www.BourneScenicPark.com
Independent Reviews
We invite anyone who has stayed here to tell us all about their visit (and upload photos, if they like) in the hope that independent reviews will be helpful to other couples as they make their own travel plans.
Bourne Scenic Park to Camping Cape Cod
Bourne Scenic Park to Cape Cod for Couples Home