---
Camping Cape Cod
Camping Cape Cod will give visiting couples a small taste of what it was like for Henry David Thoreau all those years ago when he chronicled his trips to the Cape and wrote what, even today, many consider to be the best book ever written about Cape Cod.
Cape Cod campgrounds also offer quite possibly the least expensive way to visit the area, and a surpisigly wide array of outdoor experiences from bare bones and rustic to yurt camping, which allows you to enjoy nature while the amenities of a 5-star hotel.
That kind of defeats the purpose, if you ask us, but it might be the only way to convince an otherwise reluctant partner to give camping a try.
Nickerson State Park in Brewster is the largest and best known location for camping Cape Cod, but it is far from the only one.
Our Cape Cod campground directory lists every campground from the Bourne Scenic Park in Buzzards Bay to the Dunes Edge Campground in PTown.
We've included basic information, a brief description, a photo where possible, and a link to the property's website.
On each property's page, there is also an invitation for guests to review their stay and grade their visit.
Couples Cape Cod Campground Directory
Upper Cape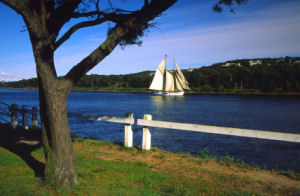 Bourne Scenic Park, Buzzards Bay
Nestled right underneath the Bourne Bridge on the "mainland" side of the Cape Cod Canal, the Bourne Scenic Park is the first campground you'll come to when you visit Cape Cod.
Couples should note that this really is a family campground, so there will be lots of children if you stay during school vacations. more...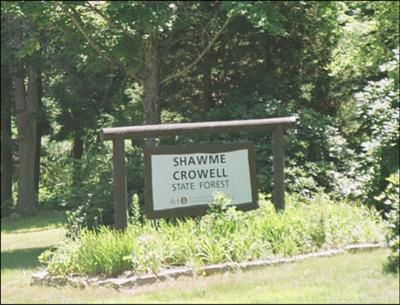 Shawme-Crowell State Forest, Sandwich
Karen's old school friend, Mike, comes to visit every August with his two boys and always stays at the Shawme-Crowell State Forest.
His boys love it and consider it one of the highlights of their summer.
It's a quiet year-round campground that covers over 700 acres of the Cape's oldest town and has over more...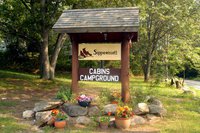 Sippewissett Campground and Cabins, Falmouth
Sippewissett Campground & Cabins in Falmouth sits next to the Shining Sea Bike Path so that's a big plus in our books. Being 'on' the Bike Path gives you the flexibility to bike around Falmouth, virtually leaving your car at the campsite for most outings.
With 100 sites suitable for tents and RV's... more...
Lower Cape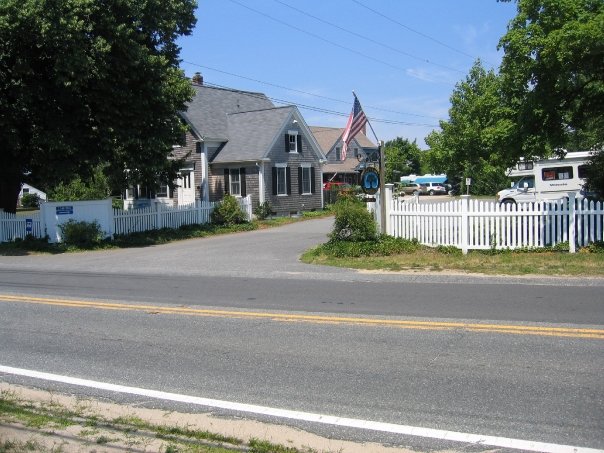 Shady Knoll, Brewster
Located in Brewster, Shady Knoll Campground offers both RV and tent camping. You can have campfires here - yay! - and there is quick access to the Cape Cod Rail Trail (1/2 mile away). The site is also close to both salt and fresh water swimming.
If you've read through our site, you know how much we love the Cape Cod Rail Trail so any accomodations so close... more...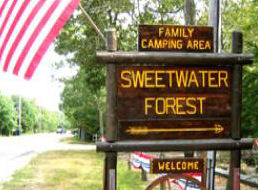 Sweetwater Forest
Located right next to Snow's Pond in Brewster, Sweetwater Forest Campgound offers quick and easy access to the beaches and Cape Cod Rail Trail.
Brewster is a great town, lots of antiques, a few good restaurants, and the famous Brewster Flats, where you can walk for miles when the tide goes out.more...
Outer Cape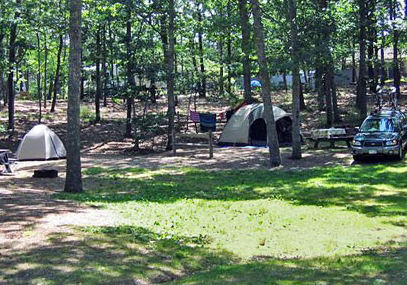 Atlantic Oaks Campground, Eastham
This is one of the best RV parks on the Cape and our friends who have pulled their "rigs" in to the Eastham campground have given it the thumbs up on all levels.
But it also boasts several designated tenting sites that are spacious and private so don't worry if you're tent campers like us. more...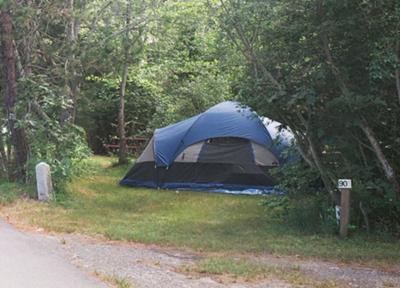 Coastal Acres Camping Court, Provincetown
Located off Bradford Street in Provincetown, Coastal Acres is minutes away from the center of Provincetown by foot or car.
With over 120 sites catering to RV's and tents, the only downside is that there is just one centrally located bathroom and showering facility. more...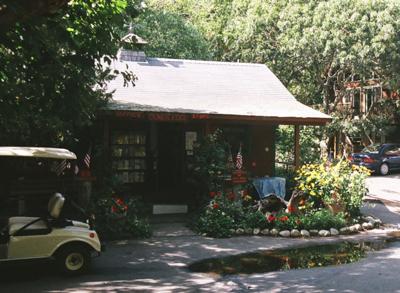 Dunes Edge Campground, Provincetown
Located off Route 6 in Provincetown, Dunes Edge Campground is one of two Campgrounds in Provincetown and is close enough to the center of town that you can leave your car at your campsite and ride your bike right into the heart of the action.
If you are looking for large, private campsites, this might more...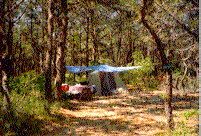 North of Highland Camping Area
Set in the middle of a scrub pine forest on the heels of the Cape Cod National Seashore, the North of Highland Camping Area is a great place to camp if you're looking to stay in the lower Cape, our favorite area on Cape Cod.
Wellfleet and Provincetown are just minutes away so this is an ideal location to experience the outer Cape. . more...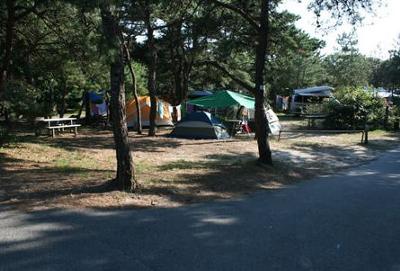 North Truro Camping Area
Run by Adventure Bound who operates 9 campgrounds, North of Truro Camping Area has 330 sites and accomodates both tents and RV's.
With 330 sites for both tents and RV's this is a big campground. There are several seasonal campers and sites tend to be close together. more...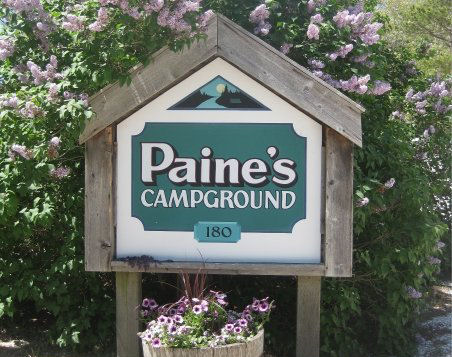 Paines Campground, Wellfleet
Paine's Campground in Wellfleet has been in the same family since the late 1950's and is known as a tent camping 'paradise" because there're only a handul of RV sites.
We prefer campgrounds with few or no RV's and Paine's Campground retains that old style campground feel. more...

Campground operators, if you if you want to reach out to couples who are planning on camping Cape Cod, you can have your campground listed here by filling out our submission form. If you can send us a photo, too, and a brief description of your camppground, we'll get you listed right away.
Return from Camping Cape Cod to Cape Cod Lodging
Return from Camping Cape Cod to Home