---
Cape Cod Bed and Breakfast Directory
There are over 250 Cape Cod bed and breakfast inns, each offering a slightly different experience for couples. Whether you're looking for the simple charm of a two or three bedroom house or the luxurious splendor of an inn that can house up to 50, you can probably find what you're looking for in our directory.
Many people ask us just what is the difference between an Inn and a Bed and Breakfast? The answer lies in the size of the property (a B&B typically has three rooms or less) and the prepared meals (an inn is usually set up to offer dinner as an option - although it's unlikely to be included in the price).
The great thing about staying in Cape Cod inns or bed and breakfasts is that the atmosphere and the ambience of the accommodation is very much a part of the vacation itself.
While some couples may come to the Cape and not care too much where they stay, as long as it's clean and convenient for the beaches and attractions, couples who stay in bed and breakfast inns are often looking for something else.
Maybe it's romance, or solitude, or just a chance to relax in a home-like setting, but Cape Cod bed and breakfasts and inns tend to attract a different type of clientele. Many hosts discourage families with young children from visiting, which makes them a little quieter and more peaceful for couples.
Your host at a Cape Cod bed and breakfast is likely to know the area very well, having probably lived on-Cape for many years. That makes them an excellent resource for local attractions that might go beyond the typical tourist traps. Fellow guests, too, will often have stayed there several times before and can steer you to places that the typical tour books won't necessarily point out.
So take a look at our directory and see what you can find. We've included basic information, a brief description, a photo where possible, and a link to the property's website.
On each property's page, there is also an invitation for guests to review their stay and rate their visit.
Couples Cape Cod Bed and Breakfast Directory
Upper Cape
Belfry Inn, Sandwich
The Belfry Inn is really three B&Bs in one - the Abbey, a former church, The Painted Lady, the former rectory, and the Village House a federal style home.
The three combined offer some of the most elegant accommodations on Cape Cod right in the heart of downtown Sandwich, which is itself arguably the Cape's most picturesque town center. more...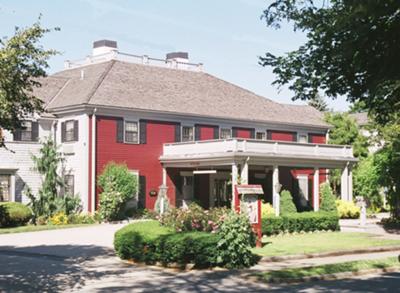 Dan'l Webster Inn, Sandwich
The Dan'l Webster Inn is Sandwich's largest bed and Breakfast and has offered Cape Cod lodging in the center of town for over 300 years.
Couples can enjoy all the romance and ambience of the past coupled with modern conveniences, such as oversized whirlpool tubs, a heated pool and wireless internet more...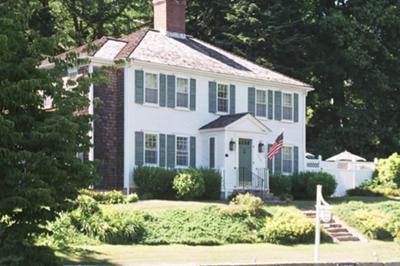 1750 Inn at Sandwich Center, Sandwich
The 1750 Inn at Sandwich Center is perfectly located right in the center of town, just across the street from the Sandwich Glass Museum.
It is just short walk from the Town Hall Square, Shawme Duck Pond and many of Sandwich's many museums, attractions and more...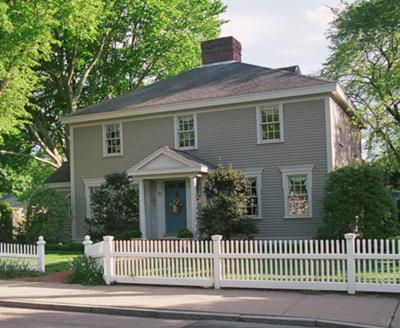 Inn at Siders Lane, Falmouth
The Inn at Siders Lane is described as an "elegant B&B that blends traditional New England hospitality and 19th century style with modern amenities."
Tucked away in a quiet corner of Falmouth's village green, its location really is excellent, being just a short walk from the shops and restaurants of Falmouth, yet nestled away, seemingly far from more...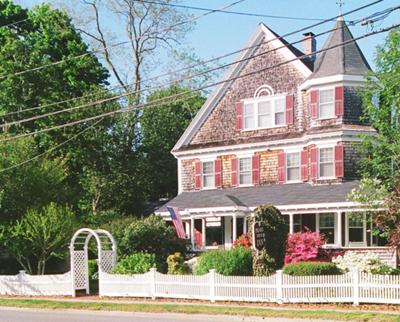 Palmer House Inn, Falmouth -
The Palmer House Inn is a Queen Anne–style Victorian home located just off the main village green in the center of Falmouth.
Built in 1901, the inn is immaculately kept, beautifully decorated and perfectly located for all of Falmouth's shops and restaurants.
The guest rooms have a Victorian charm, with more...
Village Green Inn, Falmouth
The Village Green Inn, as the name would suggest, sits right on the corner of the village green and, therefore, provides the perfect location all od Falmouth's many shops and restaurants.
This Federal style inn combines a modern, relaxed casual style with the charm of the 19th Century. more...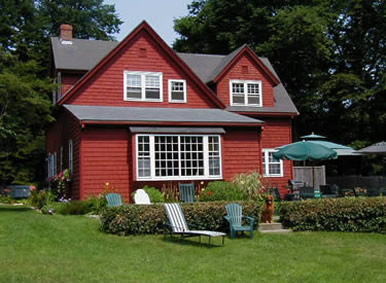 Woods Hole Passage, Woods Hole -
The Woods Hole Passage is a cozy Cape Cod Bed and Breakfast with five rooms and 2 acres of beautiful grounds that offers a relaxing year-round retreat for visiting couples.
It is located on the road between Falmouth and Woods Hole, within walking distance of both bay and ocean beaches (nice warm water in the summer), and just half a mile from more...
Mid Cape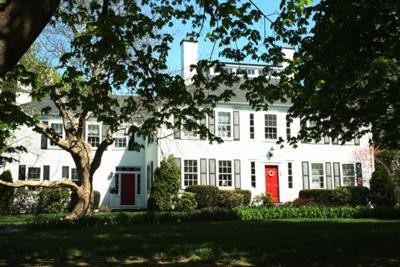 Josiah Sampson House, Cotuit
The Josiah Sampson House is located in the village of Cotuit (Barnstable) and offers six spacious and comfortable guest rooms.
When it was built in 1793 by prosperous businessman Josiah Sampson, this Federal-style New England house was so elegant for its day that it came to be known by locals as Sampson's Folly. more...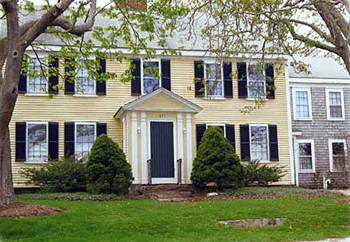 The Bursley Manor, W. Barnstable
One of the oldest properties in West Barnstable, the Bursley Manor was built in 1670 and once served as the center of operations for a dairy farm.
Now it is a beautiful Cape Cod bed and breakfast located on Route 6a. The location is quiet and peaceful yet close enough to Route 6 more...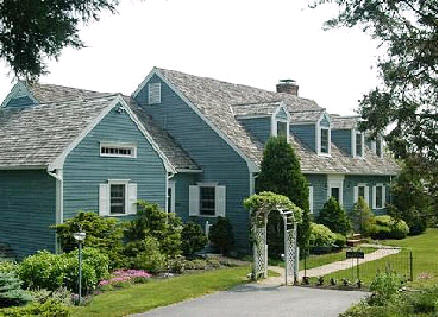 High Pointe Inn, West Barnstable
Located just outside the quaint village of Barnstable, the High Pointe Inn offers visiting couples the Cape Cod bed and breakfast experiece in a setting that's like a more relaxing, carefree version of home.
Just a few minutes drive from the mid-Cape Highway it's location is perfect for exploring all of Cape Cod more...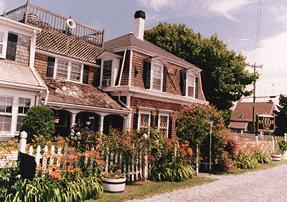 Sea Breeze Inn, Hyannis
The Sea Breeze Inn in Hyannis is very close to the Hyannisport Harbor as well as one of the Cape's most beautiful beaches. The uniquely decorated guestrooms all have modern amenities, air-conditioning and en suite bathrooms.
You can relax in the garden or on the rooftop deck overlooking Nantucket Sound. An expanded continental breakfast is offered each morning. more...

Lamb and Lion Inn, Barnstable
The Lamb and Lion Inn is located on Route 6a just ten minutes from Hyannis, two minutes from Barnstable Village and a short walk from the beach. The whale watching boats of Barnstable Harbor are also just a few minutes away.
The four acres of grounds offer plenty of space for guests to relax and the swimming pool, hot tub and outdoor fireplace provide plenty of opportunity. more...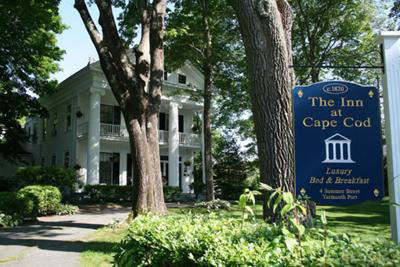 Inn at Cape Cod, Yarmouthport
Built in 1820, this exquisite bed and breakfast inn is perfectly located for exploring Cape Cod, Martha's Vineyard & Nantucket. The inn is within easy reach of Boston, New York and Providence R.I.
more...
Lower Cape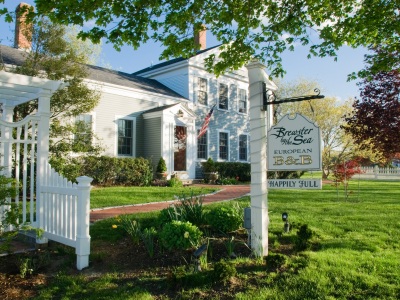 Brewster by the Sea Inn & Spa, Brewster
This award-winning, romantic Bed and Breakfast offers all the charms of Cape Cod with a distinct European flavor. That is because innkeepers Donna and Byron Cain traveled throughout Europe in their previous careers prior to purchasing what was then the Brewster Farmhouse Inn back in 2003.
Since then they have renovated much of the property, and changed the name more...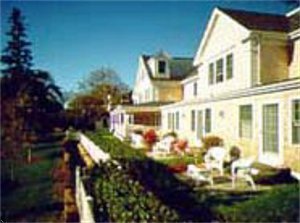 Chatham Wayside Inn
The Chatham Wayside Inn is set right in the heart of one of Cape Cod's most charming and exclusive towns, with all of Chatham's many year-round activities taking place right on it's doorstep.
Visiting couples can enjoy elegant rooms, spirited dining and warm hospitality at one of Chatam's finest historic inns, one that has been accommodating guests since 1860. more...
The Platinum Pebble Inn Boutique
The Platinum Pebble Inn Boutique is a luxury Cape Cod Inn located in the quaint harbor village of Harwich. This exquisite Cape Cod Bed and Breakfast has a swimming pool and is only a short stroll from the sandy beaches of Nantucket Sound.
Outer Cape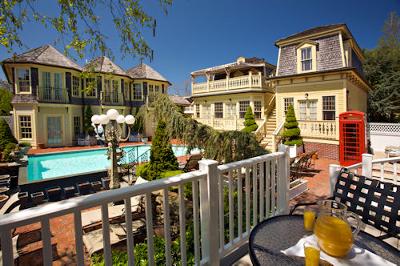 Brass Key Guesthouse, Provincetown
Located on a lovely grounds, with nine historically restored buildings, The Brass Key Guesthouse on Bradford Street is a wonderfully romantic inn and spa in the heart of Provincetown, just steps away from bustling Commercial Street. more...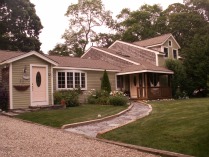 Outer Cape Escape B&B, Eastham
Located in the historic district of Eastham, Outer Cape Escape B&B has the flexibility to offer something for everyone. This spacious B&B is full of light and has the seaside flavor of Cape Cod and is just steps from the Cape Cod Rail Trail that carries you to either the spectacular beaches of the Cape Cod National Seashore or the tranquil beaches of Cape Cod Bay. more...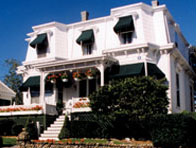 White Wind Inn, Provincetown
The White Wind Inn is a stately Victorian mansion that has been owned by Michael Valenti and Rob Tosner since 1998. It was built by a prosperous shipbuilder in 1854 and now offers 12 beautiful and unique rooms, all furnished with beautiful antiques, and each featuring a private bath.
The inn manages to maintain the beauty of the original building while more...

Innkeepers, if you have a Cape Cod Bed and Breakfast you would like us to include, you can have it listed here by filling out our submission form. If you can send us a photo or two, as well, and a brief description of your property, we'll get you listed right away.
Visitors can also submit a bed and breakfast review of any property they have stayed at as a guide to other couples who may be making their own future travel plans.
Return from Cape Cod Bed and Breakfast to Home