---
Cape Cod Hotels Directory
As you might expect, there are plenty of Cape Cod hotels for visiting couples to choose from. The real challenge is deciding what kinds of amenities and level of service you want, figuring out how much you want to spend, and matching the two together.
If your plan is essentially to spend all day on the beach, all night partying, and not getting back until the wee hours of the morning, then do you really need to be spending $300 a night for your hotel?
If, on the other hand, you consider amenities like a swimming pool, fitness room, spa and a nice hotel restaurant to be an essential part of your vacation, then we can help you find a hotel that offers those things.
Most hotels on Cape Cod also offer amenities like laundry service, health clubs and room service, and they often serve as hubs for local tour guides and operators, which can be useful if you're planning a lot of sightseeing trips.
The more of these kinds of amenities a hotel provides, of course, the more guests they have to attract in order to cover the cost of providing them. That means hotels are, almost by definition, bustling places filled with people and activity. And the larger the hotel, of course, the larger the crowds.
It is also worth noting that many Cape Cod hotels cater fairly and squarely to the family market, at least for the ten weeks or so that schools are out in the summer, so if you love kids, and don't care much about peace and quite, that's fine
Some couples, on the other hand, are traveling to the Cape for the express purpose of getting a break from the kids. As parents, we can certainly relate to that!
Take a look at our directory of Cape Cod hotels and see what takes your fancy. You'll certainly have plenty to choose from.
Each listing includes a brief description, a photo where available, and a link to the property's website. On each hotel's page, there is an invitation for previous visitors who have stayed there to write a review of their own and grade the hotel on a scale of one to five.
Couples Directory of Cape Cod Hotels
Upper Cape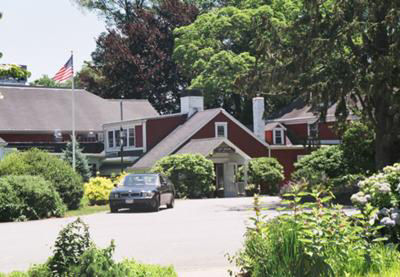 Coonamessett Inn, Falmouth -
With its an excellent location, just a few minutes walk from downtown Falmouth, and its setting on beautifully-manicured grounds that back onto Jones Pond, the Coomamessett may be a perfect retreat for visiting couples.
Rooms are airy and spacious, and include private baths, refrigerators, telephones, and TVs, though some say more...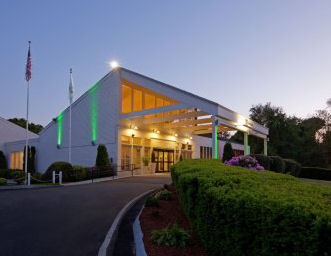 Holiday Inn, Falmouth
The Holiday Inn Cape Cod is situated in a picturesque area surrounded by lush greenery, close to the center of town and all the quaint shops and attractions that Falmouth has to offer. It's also just a short drive from the ferry that can take you to the Martha's Vineyard.
The hotel's free high-speed, wireless Internet access connects visiting couples to friends and family. There is also a heated, saline indoor pool and a fitness center. more...
Mid Cape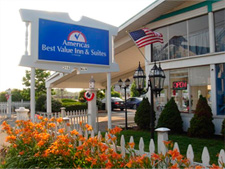 America's Best Value Inn & Suites, Hyannis
America's Best Value Inn & Suites is centrally located in the heart of downtown Hyannis, less than a mile from Hyannis Harbor, the JFK Museum and the Hyannis Transportation Center.
Guest rooms offer cable TV, desks and dining areas, and are equipped with refrigerators and ironing facilities, free Wi-Fi, an outdoor pool and a heated indoor pool. more...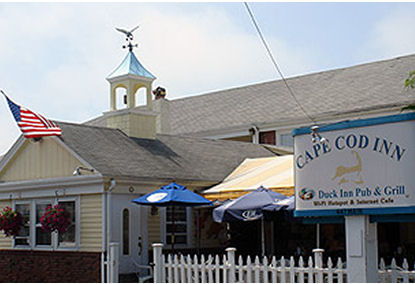 Cape Cod Inn, Hyannis
The Cape Cod Inn is a family-owned and operated property that is conveniently located on Main Street in Hyannis. It's just a short walk from the scenic waterfront of Hyannis, where you can catch ferries to the Islands.
The Cape Cod Inn offers an indoor pool and sundeck with gazebo. There is also a game room and bowling alley locates right next door. more...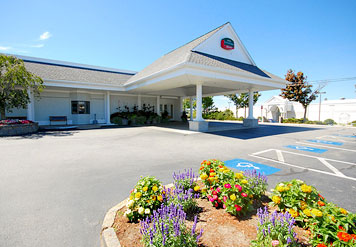 Courtyard by Marriot, Hyannis
The 119-room Courtyard Hotel is located in the heart of Hyannis on Route 132, just a couple of miles from the beaches, the ferries and the airport. Hyannis Main Street is nearby with its many stores and several restaurants.
Right next door is the Cape Cod Mall, which has about 80 stores and restaurants as well as a 12 screen movie theater. more...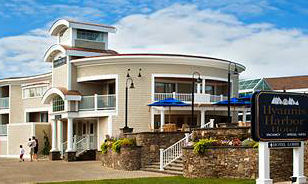 Hyannis Harbor Hotel, Hyannis
Located right on the waterfront at Hyannis Harbor, this hotel offers a convenient location for the ferries to Nantucket and Martha's Vineyard, as well as Hyannis Main Street.
Hotel offers 136 newly renovated rooms for visiting couples to choose from, as well as a lively harbor front bar and grill. more...
Lower Cape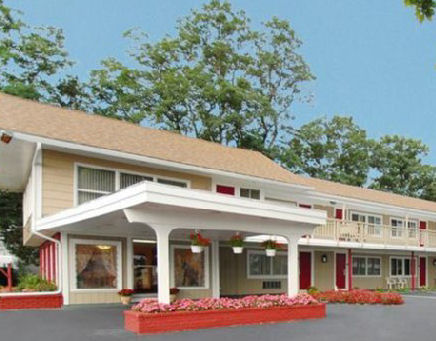 Rodeway Inn, Orleans
The Rodeway Inn is located in the heart of Orleans, midway between spectacular Nauset Beach to the east and Skaket Beach to the west. The hotel is within walking distance of many shops and restaurants and is about a 30-minute drive from both Hyannis and Provincetown.
The hotel offers an outdoor heated swimming pool, free wifi and BO, continental breakfast, microwaves and refrigerators. more...

If you have a hotel you would like us to include, you can have it listed here by filling out our submission form. If you can send us a photo or two, as well, and a brief description of your property, we'll get you listed right away.
Return from Cape Cod Motels to Cape Cod Lodging
Return from Cape Cod Motels to Home