---
Cape Cod Motels Directory
Cape Cod Motels have historically played an important role in the development of the tourist industry here mostly because that development has coincided almost directly with the evolution of the automobile.
The first motel opened in Hyannis in 1939, and Route 28 between Hyannis and Chatham remains the area of the Cape with the most motels per square mile.
Motels tend to offer fewer amenities than hotels, with rooms that open to the outside, rather than an interior corridor. But even though they're built with the motorist in mind, many Cape Cod motels are surprisingly quaint, particularly along Route 6a.
They're often less expensive than hotels, too, so they're great for couples who are visiting the Cape on a tight budget or for couples who are happy just to have a place to crash at the end of a busy day at the beach or seeing the sights.
While motels seldom offer any kind of restaurant, and room service is a hit or miss option, this is seldom a problem when there are so many Cape Cod restaurants to eat at. And if all you're looking for is a place to crash after a day at the beach or sightseeing, a Cape Cod motel could be a perfect option.
Our directory of motels on Cape Cod includes basic information, a brief description, a photo where possible, and a link to the property's website. On each motel's page, there is an invitation for visitors who have stayed there to review their stay and grade their visit out of five.
Couples Directory of Motels on Cape Cod
Upper Cape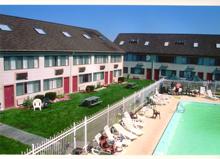 Admiralty Inn & Suites, Falmouth
The Admiralty Inn & Suites Hotel is a courtyard hotel that is centrally located in heart of downtown. In 2009, it was selected by Cape Cod Life magazine as an Editor's Choice Winner for Best Motel - Upper Cape.
The 98 rooms are large and come with free WiFi, Cable TV and a Complimentary Breakfast. The hotel has two Pools, a Gazebo and a game room. more...
Country Acres Motel, Sandwich
Located on Route 6a about a mile east of Sandwich Village, the Country Acres Motel offers the perfect location for visiting couples who wish to explore the art galleries, museums and gift shops along the Old King Highway.
Rooms surround a pleasant courtyard, each with a small front porch so you can sit outside and watch all the comings and goings. more...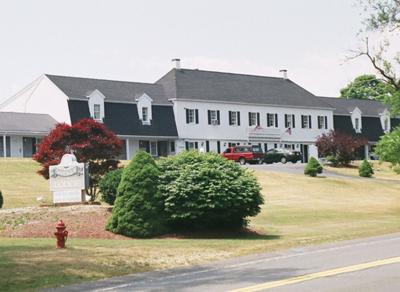 Sandwich Lodge and Resort, Sandwich
If you are looking for a comfortable and pleasant Cape Cod motel in Sandwich, with an indoor pool and a complimentary breakfast, the Sandwich Lodge and Resort is a good option.
The staff is friendly, the rooms are clean, and the motel is right next door to the BBC more...
Mid Cape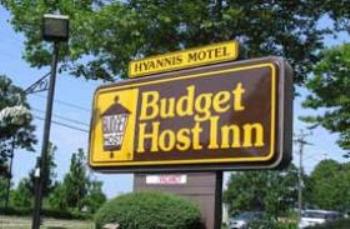 Budget Host Inn, Hyannis
The Castle Dawn Motel is located in West Yarmouth, just north of Lewis Bay on Nantucket Sound and two miles from Hyannis Harbor, from where you can catch sightseeing boats and ferries to Martha's Vineyard and Nantucket.
You'll be close to shops and beaches, fishing and whale watching, and less than a 45 minute drive to Province town, Plymouth and Woods Hole. more...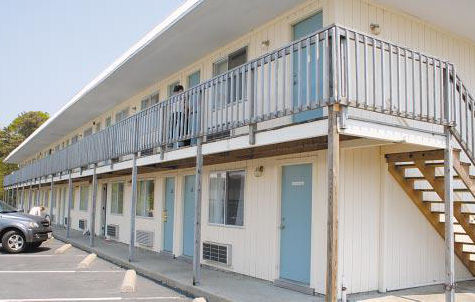 Castle Dawn Motel, West Yarmouth
The Budget Host Inn in Hyannis is an affordable family owned and operated motel located close to the Cape Cod Mall on Route 132, just a few minutes away from Hyannis Main Street and Waterfront District.
The location is excellent, if rather busy, and you'll be conveniently located to major attractions, restaurants, shopping, and recreation areas. more...

If you have a Motel you would like us to include, you can have it listed here by filling out our submission form. If you can send us a photo or two, as well, and a brief description of your property, we'll get you listed right away.
Return from Cape Cod Motels to Cape Cod Lodging
Return from Cape Cod Motels to Home