---
Outer Cape Escape B&B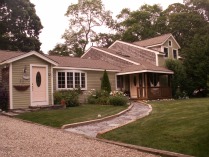 Located in the historic district of Eastham, Outer Cape Escape B&B has the flexibility to offer something for everyone. Eastham is an ideal spot to stay on the Cape- close enough to explore both the upper, mid and lower Cape.
This spacious B&B is full of light and has the seaside flavor of Cape Cod and is just steps from the Cape Cod Rail Trail that carries you to either the spectacular beaches of the Cape Cod National Seashore or the tranquil beaches of Cape Cod Bay.
Enjoy the gas fireplace in the luxurious living room or the cozy Mexican fireplace on our large deck.
The Outer Cape Escape B&B has two rooms- one with a queen bed and one with two twin beds and can accommodate up to 4 people. Bathrooms are private.
Open year round, the Outer Cape Escape B&B also offers the opportunity to vacation with your horse and can accommodate horses during the quiet season after Labor Day and before June 25.
Vacationing and riding the beaches with your horse is a wonderful experience. Call for pricing.
Key Information
Location: 590 Locust Road, Eastham, Ma 02642
Open: Year-Round
Price Range: Peak Season: $140.00 for one room or $240.00 for both/ Quiet Season: $120.00/220.00. Telephone: (508) 241-0950
Website: https://sites.google.com/site/outercapeescape/home
Return from Brass Key Guesthouse to Cape Cod Bed and Breakfast
Return from Brass Key Guesthouse to Cape Cod for Couples Home