---
Our Favorite Cape Cod Golf Courses
Our couples Guide to Cape Cod Golf Courses gives an overview of what is one of the Cape's top sporting attractions – our 50-plus golf courses and resorts offering a wide array of challenges for all levels of golfer.
Golf is a wonderful game for couples to play because it's one of the few sports where the physical differences between male and female athletes can be adequately compensated for.
Take the pretty par 3 course at Holly Ridge in Sandwich, for instance. A long-hitting male player can put the woods away for an afternoon and compete pretty evenly with a female golfer who can hit straight, but not as long.
Even on a full-par course, with ladies tees and a handicapping system that is built right into the rules of the game, couples can play together and compete with one another in a way that few other sports allow.
Golf on Cape Cod
While there is no such thing as a "typical" Cape Cod golf course, there are a number of broad generalizations we can make that will give you some idea of what to expect.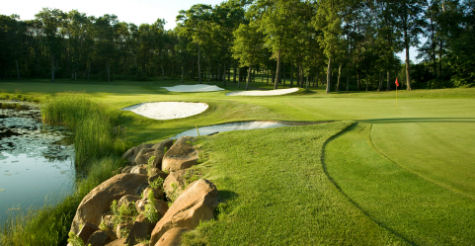 Surprisingly, given the Cape's rustic, ocean-side location, you won't find as many of those authentic, Scottish-style links courses as you might expect.
The nine-hole Highland Links in Truro is one notable exception, but most others offer some beautiful views of the ocean, but play more like idyllic inland suburban courses.
You will find that Cape Cod golf courses tend to be picturesque (this is, after all, Cape Cod), mostly tree-lined, and very well maintained. Many are also beautifully designed, with some of the biggest golf course architects around (Rees Jones, Geoffrey Cornish, Skip Wogan, Brian Silva and even Jack Nicklaus Design) having worked on courses here.
Insider Tip
One thing to remember is that there are many more Upper Cape and Mid-Cape golf courses than there are Lower Cape and Outer Cape ones. That stands to reason, since there's way more land there and the eco-system is not so fragile.

Bear that in mind if your goal is to play golf at a different course every day for the entire duration of your week-long stay. It might not make a whole lot of sense to book your accommodation in Wellfleet, if that's your plan.
Fairways tend to be narrow, so a straight drive will serve you better than a long one that tends to hook or fade inadvertently. (Of course, if you're accomplished enough at this confounded game to be able to hit both long and straight, that's better still).
Likewise, greens on Cape Cod golf courses tend to be quite small, so accurate pitching will be a useful weapon to have in your golfing arsenal. And Cape Cod is a breezy place, even in the summer, so wind can be a factor that will affect both the length and the direction of some of your longer shots.
Cape God Golf Guide for Couples
As we build out this part of the site, it is our intention to play every one of the Cape Cod golf courses we list and provide a full review (it's a lousy job but someone has to do it

). Many, of course, we have already played, so we'll start with reviews of those. Then we'll focus on the public and semi-public courses, since those are ones that visiting couples are most likely to find themselves playing on.

Start by checking out the table below and clicking on the live links that will take you to our Cape Cod golf course reviews. We'll list them by region; Upper Cape, Mid-Cape, Lower Cape, etc. and even provide info on Martha's Vineyard and Nantucket courses as soon as we get a chance to pop over there for few rounds.

Meanwhile, if you have a Passion for Golf, you might want to check out a neat website we found. It's a full and comprehensive website dedicated to golf, for passionate golfers everywhere, Passion-for-Golf.com has everything to do with golf, vacations, equipment, instruction pages and lots more.



Upper Cape Cod Golf Courses
Course
Pub/Priv
Holes
Par
Yardage
Greens Fees
Phone
Ballymeade Country Club
125 Falmouth Woods Road
Falmouth

Public

18

72

6,300

$35-$80

(508) 540-4005
Brookside Golf Club
1 Brigadoon Road, Bourne

Public

18

70

6,300

$25-$65

(508) 743-4653
Cape Cod Country Club
Theatre Drive, Hatchville

Public

18

71

6,404

$23-$56

(508) 563-9842
Falmouth Country Club
630 Carriage Shop Road
Falmouth

Public

27

72

6,234

$25-$60

(508) 548-3211
Holly Ridge
121 Country Club Road
Sandwich

Public

18

54

2,925

$24-$34

(508) 428-5577
New Seabury
Rock Landing Road, Mashpee

Private

36

72

6,508

n/a

(508) 539-8322
Paul Harney Golf Course
Route 151, E. Falmouth

Public

18

59

3,410

$25-$30

(508) 563-3454
Pocasset Golf Club
Country Road, Pocasset

Private

18

72

6.189

n/a

(508) 563-7171
Quashnet Valley Country Club
309 Old Barnstable Road
Mashpee

Public

18

72

6,601

$25-$57

(508) 477-4412
Sandwich Hollows Golf Club
Quaker Meetinghouse Road
Sandwich

Public

18

71

5,891

$15-$62

(508) 888-3384
The Ridge Club
Chase Road, Sandwich

Private

18

71

6,640

n/a

(508) 428-6800
Willowbend Country Club
Quinaquisset Ave, Mashpee

Private

18

71

6,640

n/a

(508) 428-6800
Woodbriar Golf Course
Gifford Street, Falmouth

Public

9

56

2,621

$21-$23

(508) 495-5500
Woods Hole Golf Club
Quisset Road, Woods Hole

Private

18

71

6,137

n/a

(508) 548-2932
Mid-Cape Golf Courses
Course
Pub/Priv
Holes
Par
Yardage
Greens Fees
Phone
Bass River Golf Club
62 Highbank Road, Yarmouth

Public

18

72

6,129

$30-$58

(508) 398-9079
Bayberry Hills Golf Course
W. Yarmouth Road, Yarmouth

Public

18

72

6,129

$30-$66

(508) 394-5597
Blue Rock Golf Course
Todd Road, Yarmouth

Public

18

54

3,000

$25-$49

(508) 398-9297
Cotuit Highground Country Club
Crockers Neck Road, Cotuit

Public

9

28

6,300

$15-$20

(508) 428-9863
Cummaquid Golf Club
Cummaquid Heights, Barnstable

Public

18

71

6,302

n/a

(508) 362-2022
Dennis Highlands
825 Old Bass River Rd, Dennis

Public

18

71

6,076

$20-$60

(508) 385-8347
Dennis Pines Golf Course
1045 Route 134, Dennis

Public

18

72

6,512

$20-$60

(508) 385-8347
Hyannis Golf Club
Route 132, Hyannis

Public

18

71

6,700

$30-60

(508) 362-2606
Hyannisport Club
Irving Avenue, Hyannisport

Private

18

71

6,257

n/a

(508) 775-2978
Olde Barnstable Fairgrounds Course
1460 Route 149, Marstons Mills

Public

18

71

6.113

$30-$60

(508) 420-1141
Oyster Harbors Golf Club
West Bay Road, Osterville

Private

18

71

6,800

n/a

(508) 428-6666
Twin Brooks Golf Course
35 Scudder Ave, Hyannis

Public

18

54

2,621

$25-$33

(508) 775-7775
Wianno Golf Club
Parker Road, Osterville

Private

18

70

6,023

n/a

(508) 428-9840
Lower Cape Cod Golf Courses
Course
Pub/Priv
Holes
Par
Yardage
Greens Fees
Phone
Cape Cod National Golf Club
Route 39, Brewster

Private

18

72

5,953

n/a

(508) 255-1314
Captain's Golf Course
100 Freeman's Way, Brewster

Public

36

72

6,198

$25-$66

(508) 743-4653
Chatham Seaside Links
Seaview Street, Chatham

Public

9

34

2,750

n/a

(508) 945-4774
Cranberry Valley Golf Course
183 Oak Street, Harwich

Public

18

72

6,296

$38-$64

(508) 430-7560
Eastward Ho! Country Club
325 Fox Hill Road, Chatham

Private

18

72

6,215

n/a

(508) 945-0620
Harwich Port Golf Course
51 South Street, Harwich

Public

9

34

2,461

$20-$30

(508) 432-0250
Ocean Edge Golf Club
832 Villages Drive, Brewster

Private

18

72

6,127

$81-$145

(508) 896-5911
Outer Cape Cod Golf Courses
Return from Cape Cod Golf Courses to Cape Cod for Couples Home