Click to bookmark this page!
---
Romantic Getaways on Cape Cod
Couples planning romantic getaways on Cape Cod can get inspired in this part of the site, where we'll guide you to all the most romantic places we can think of on the Cape.
Maybe there's something about the sunsets here, or the slightly slower pace of life, or the incredible beauty of the scenery. Whatever it is, regardless of the time of year, couples come to our little peninsular and seem to acquire a new-found appreciation for one another that leads to romance, love, and who knows where else.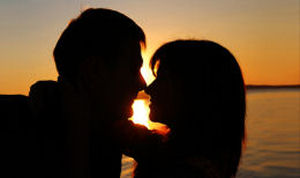 Whether it's a moonlit walk on one of our 100 or so beaches, a dinner for two at one of our countless romantic restaurants, or a fireside snuggle in one of our historic country inns, Cape Cod has plenty to offer the visiting couple on a romantic getaway.
A quiet drive along Route 6A might lead you to a Cape Cod jewelry store that has that perfect, unique wedding or engagement ring. A quiet picnic in a secluded part of the dunes might serve as the perfect backdrop for you to "pop the question", and any one of our dozens of white spired churches could be the perfect place to exchange, or perhaps renew, your vows.
Wedding Couples
And that brings us to the subject of Cape Cod weddings
We've been to our share of Cape Weddings over the years, including one that took place on the beach, and they really are very special occasions. Cape Cod is the perfect venue, not just for the wedding itself, but as a wonderful place for couples to honeymoon afterwards.
There are countless, hotels, restaurants, florists, photographers and planners who exist solely to service the wedding industry. We even have a magazine called Cape Cod Bride, and an annual wedding show that takes place to promote these various businesses.
And let's not forget the gay community. Massachusetts is one of the few states in the nation where gay marriage is legally recognized, so a whole new industry has started to evolve to serve the gay community, particularly in and around Provincetown. More...
Babymoon Couples
For couples who are expecting their first child, the idea of taking a babymoon vacation on Cape Cod is becoming increasingly popular. Taking that one last trip as a couple, before the patter of tiny feet changes everything, has become one of the hottest travel trends of recent years, and Cape Cod is, in many ways, the ideal destination for expectant couples.
There are a number of Cape Cod resorts and B&Bs that offer special packages that are specifically tailored to expectant parents and we have a section of the site dedicated to this growing trend. More...
Pampered Couples
For some, of course, the words romance and luxury are synonymous, so we'll also introduce you to some of Cape Cod's most luxurious romantic resorts. The resorts themselves, of course, recognize the romance of the Cape and of have lots of special offers for your romantic getaway on Cape Cod.
And for those who think of the Cape only as a summer and fall destination, don't forget that the most romantic day of the year falls in February. Valentine's Day might be the perfect time to check out our winter on Cape Cod pages.
So if you're looking for a romantic getaway, we can't think of a better place to go than Cape Cod. Take a look around and we'll do our best to lead you to the most romantic places on Cape Cod.
Romantic Links
If you're looking for ideas for romantic things to do or trips to take, there are some terrfic websites we've come across that will surely help.
Excellent Romantic Vacations offers ideas and tips on romantic vacations, honeymoon destinations, and romantic getaways worldwide.
Romantic-Date-Idea.com is full of ideas for things couples can do to reignite the romance in their lives, from romantic dinners to trips and excusions.


Return from Romantic Getaway on Cape Cod to Home