Cape Cod Baseball and Other Sports
From Cape Cod Golf to the Falmouth Road Race

Whether you're planning to take in a handful of Cape Cod Baseball League games, play few rounds of golf, or run in the grueling Falmouth Road Race, Cape Cod has plenty to offer couples who love to play and watch sports.
The Cape has its own highly regarded baseball league, a less celebrated, but still popular amateur soccer league, several dozen championship golf courses, and every town has a number of both public and private tennis courts.
We also host several road races, including the world famous Falmouth Road Race, the Figawi Race Weekend for sailing enthusiasts and the Cape Cod Open Golf Tournament.
And while we don't have any major league sports teams here on the Cape, we're close enough to both Boston and Foxboro (each about an hour's drive from the bridges) that you can easily go to see the Red Sox, Bruins, Celtics, Patriots or Revs on a day trip. Here's a terrific site that will give you the full low down on the Boston sports scene, if that's what you're planning to do.
The Cape Cod Baseball League
The best-known and most beloved sports attraction on all of Cape Cod has to be the Cape Cod Baseball League, which offers residents and visitors a two month season that's like a trip down memory lane for those who long for the sport's purer past.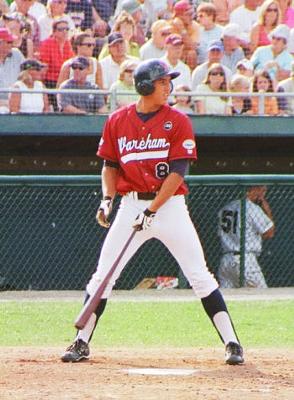 A Wareham Gateman of the Cape Cod Baseball League
The ten Cape Cod League baseball teams are located from Wareham to Orleans, and each offers a showcase for some of the most promising young college baseball players in the country.
In fact, as many as one in six current Major League Baseball players have a stint playing on the Cape somewhere on the resume.
The Cape Cod Baseball League is a part of the National Alliance of Summer Baseball and is run by a team of dedicated volunteers who manage all the marketing, promoting and organizing of the league.
They're also responsible for finding local families to host the players for the duration of their summer stay on the Cape.
The level of play is about the same as what you might see at a single-A minor league game.
In addition to the regular 44-game league schedule, and playoffs, the league hosts an a annual all-star game and also has a Cape Cod Baseball League Hall of Fame Museum that is located on the lower level of the John F Kennedy museum on Main Street in Hyannis. More...
Cape Cod Golf
There is no doubt that the Cape is one of the best places anywhere in New England for couples to take a golfing vacation.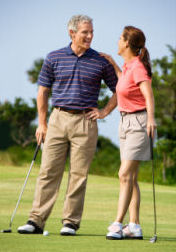 We have several dozen beautifully designed and well maintained golf courses on the Cape, enough to challenge every level of player. Some have been designed by some of the most renowned golf course architects in the world, including Nicklaus Design, Rees Jones and Geoffrey Cornish.
Then there are half a dozen more on Nantucket and Martha's Vineyard. Very few vacation spots in the world can claim to have so many golf courses that are as beautiful as the ones we have on Cape Cod.
Some of the most famous ones include Ocean Edge Resort and Golf Club in Brewster, Willowbend in Mashpee, the Ballymeade Country Club in Falmouth and Farm Neck Golf Club on Martha's Vineyard, where Bill Clinton used to play when he vacationed on the island during his Presidency.
The Cape's climate allows hardy golfers to play nine or ten months of the year, though good tee times can be tough to snag in July and August.. More...
Running
The Cape is home to a number of terrific running events, including the Cape Cod Marathon, the Falmouth Road Race, the Brew Run in Brewster and a number of smaller triathlon events that you can either watch or participate in.
The largest by far is the Falmouth Road Race (in fact it's the largest sporting event of any kind on Cape Cod). Every year, the race attracts up to 10,000 runners to the Cape including a number of world-class athletes. It is a spectacular event and great fun to watch or compete in.
Tennis
If you like tennis, there are plenty of courts and clubs to play at. Michael plays in the men's league at Sandwich High School on Monday nights throughout the summer and has also played at the South Cape Resort in Mashpee and the Mid-Cape Racquet Club in South Yarmouth.
These are mostly hard courts, both indoor and outdoor, but there are a handful of clay courts, as well. Unfortunately for Michael, who grew up playing on grass, there are no lawn tennis courts that we know of anywhere on the Cape.
Most of the major resorts have lovely private tennis facilities where you can take lessons to improve your game or just team up with other couples for a match.
Soccer
Cape Cod has been a hotbed of soccer for over twenty years and is the home of the Cape Cod amateur soccer league, which has eight teams and plays on Wednesdays and Sunday nights throughout the summer.
Players range in age from young studs (high school and college players) to old duffers (35-45 year-olds). While nowhere near as high a level as its baseball counterpart, it's still a pretty good level of play.
We also used to have a semi-pro soccer teams here call the Cape Cod Crusaders. As a member of the United Soccer Leagues, the team enjoyed modest success off the field and quite a lot o success on it, winning national championships in each of the 2002 and 2003 seasons.
But the team recently re-located to Portland, Maine and the team hasn't played here since 2008.
At the youth level, there are a number of high profile soccer tournaments held on the Cape. The biggest of these is the Cape Cod Challenge Cup, which is hosted by the Sandwich Soccer Club over Memorial Day weekend. It brings in a couple of hundred teams each year, which translates into several thousand additional visitors. Information about this and other tournaments held on the Cape can be found at the link below:
Lacrosse
There is also a men's lacrosse tournament on Cape Cod in July. The Cape Cod Classic takes place at Cape Cod Community College in West Barnstable typically attracts up to 24 collegiate and post collegiate men's teams. More information about the tournament can be found at Lacrosse-Tournament-Guide.com. Click the link below.
Return from Cape Cod Baseball and Other Sports to Home