Head of the Meadow -Truro

You can reserve a fire permit three days in advance by either stopping by or calling the Salt Pond Visitor's Center on 508-225-3421 for Eastham and Wellfleet beaches or Province lands Visitor's Center on 508-487-1256 for Truro and Provincetown beaches.

Because these permits go fast, our advice is to motor over to the visitor's centers when they open (8.30) to reserve your permit.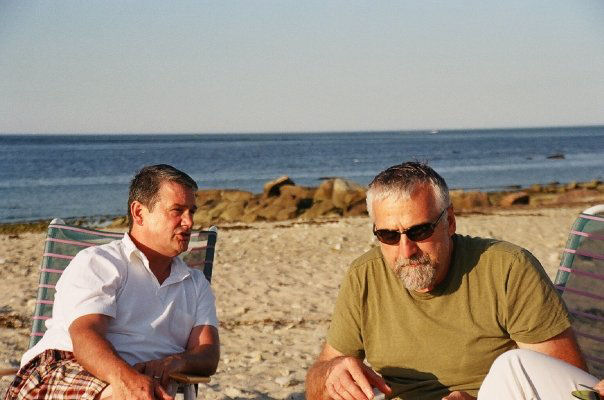 Here's what you'll need to make your sunset fire a roaring success:
Food- There is nothing like grabbing a bottle of wine or beer, a loaf of French bread, a wedge of cheese and you're good to go. We've even grabbed a pizza when we couldn't be bothered to think ahead. Just be aware, you'll be eating a few grains of sand here and there.
Wood- You can pick up a couple of bundles of wood at most small package stores and many folks sell them on the roadside usually for $5.00 or so. Don't be tempted to scrounge around the beach, particularly the dunes for wood.
Beach chairs and a sweater- because no matter how warm the day was, trust us, it gets chilly at night on the beach and you'll appreciate that your bottom doesn't get damp when resting on a chair!
Bug spray- yes, we hate it, too, but those no-see-ums can ruin a fire. Our past 4th of July beach fire on Town Neck Beach in Sandwich, broke up extra early because, even with repellant, we were bitten. We've never seen them that aggressive and it certainly ruined our night. We were simply unable to stay and saw groups of people pack up and go home long before the festivities ended. And speaking of the 4th of July, this is a great time to be on Cape. Check out our 4th of July guide coming in June to plan your ideal holiday!
Flashlight- we can't tell you how many times we've forgotten ours and stumbled around in the dark.
Bucket- yes, you'll need to put out that fire so folks taking those early morning runs or walks don't burn their feet.
Garbage bag- please, please clean up after yourself so that others may enjoy this beautiful peninsula!
If you're lucky, a fellow beachgoer will have brought their guitar and you'll be listening to gentle sounds of the surf together with, hopefully, some good acoustic music.
Return from Cape Cod National Seashore to Home