---
Biking the Cape Cod Rail Trail
The Cape Cod Rail Trail is the largest and best known of the Cape Cod bike trails. Recently widened and repaved, it runs from Dennis to Wellfleet and meanders through just about every type of terrain found on Cape Cod. At twenty-two miles each way, it offers both casual and avid bike riders great scenery, great exercise and several spots along the way to stop, have a snack or meal, or even take in a swim.
The Cape Cod Rail Trail runs along the former path of the Old Colony and Penn Central Railroad tracks that used to transport passengers from Boston to Sandwich and then later to Provincetown. By the late 1800's, the railroad carried visitors from New York City and Connecticut on a five hour journey to the pristine beaches of Cape Cod.
But by 1935, both the Sagamore and Bourne Bridges were opened and that gave the growing number of cars easier access to the Cape. By 1937, the service from Dennis to the Outer Cape was discontinued and, although trains carried freight until the 1960s, the days of a leisurely train ride to Cape Cod had ended.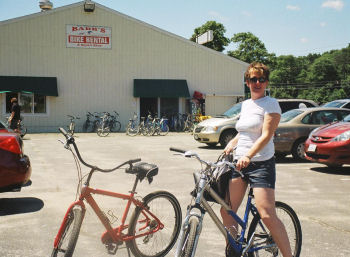 Karen at Barb's Bike Shop

There are lot's of places to join the trail all along its route, but we recommend starting at the beginning in Dennis a) because it's easy to find the starting point and b) because that part of the trail from Dennis to Orleans is the most picturesque.
Take exit 9b off the Mid-Cape Highway, drive past the Patriot Square Mall on the left and watch for the small Rail Trail Sign on the left hand side of the road. Parking for a few dozen cars is available as well as Barb's Bike Shop, which carries a great selection of rental bikes and helmets for reasonable rates.
There are parking spots for a few dozen at the start of the trail itself, and you can walk a few yards over to Barb's if you need a rental. Alternatively, if the Rail Trail parking lot is full, you can drive past by a few yards, turn at the Bank of America sign, and drive around the back of the bank into Barb's parking lot. But be nice, and don't park in Barb's unless you're actually renting a bike from there.
The first mile or so of the Rail Trail is not the most scenic, taking you past some Dennis's light industry, some if which no doubt dates back to the days when this was a real railroad. But peddle on and you will soon be passing forests, cranberry bogs, marshes and kettle ponds.
Like all bike trails, you'll need to stay to the right and if you do pass fellow bike riders or walkers, please announce "Passing on your Left" as a courtesy. There are no hills except for a short incline approaching the bridges crossing Route 6A and this shouldn't be a problem for most reasonably fit couples. (There is a little rest area mid-way should you need to pull over but we've never seen anyone use it except the tiniest bike riders)
Nickerson State Park
About 11 miles into the trail, you'll pass Nickerson State Park which has its own separate bike trail system - worth a diversion and perfect for those who need a little extra cardio push. The eight-mile trail winds through forests and past ponds and there is a camper's store where you can grab a cold drink and a snack.

There are also public restrooms here, and a few picnic tables for those just wishing to stop and take a break. Barb's Bike Shop has a satellite rental site here, too, which is on Route 6A in Brewster.
A Bike Rotary?
The trail divides approximately four miles after the Dennis start point, where you'll encounter a bike rotary (yes, Cape Codders love their rotaries). There is a rest area with picnic tables and a trail map, and here you have the option of continuing on the longer Cape Cod Rail Trail to Harwich, Brewster, Orleans and Wellfleet or veering off to the right and heading to Chatham along the Chatham Rail Trail Extension.

We recommend staying on the Cape Cod Rail Trail, unless you are specifically planning to go to Chatham. While Chatham is certainly beautiful (and one of the better ways to get around it is by bike) the ride itself is nowhere near as pretty as the Cape Cod Rail Trail.

The better route is the more traveled route heading toward South Wellfleet. This will take you past several ponds that you can swim in so be sure to wear a swimsuit and bring a towel. We each bring a small backpack and toss in a towel, sunblock, snacks, additional water and a change of clothes.



Places to Park along the Trail
There are plenty of places to park at points all along the trail, depending on how far you want to cycle. Some of these, though not all, offer a chance to rent bikes. Here is our list of parking spots along the Cape Cod Rail Trail:
Dennis: The Trailhead on Route 134
Harwich: Headwaters Drive (off Rte. 124)
Brewster: Underpass Road (off Rte. 137) Nickerson State Park (Rte. 6A)
Chatham: Rte. 137 at Rte. 28 intersection Winifred Rd, off Old Queen Anne Rd.
Orleans: Orleans Ctr, Old Colony Way (off Main St.)
Eastham: Salt Pond Visitor Center (Rt. 6)
Wellfleet: National Seashore at Marconi Area • LeCount Hollow Rd (behind So. Wellfleet General Store)
Places to Rent Bikes Along the Trail
As noted earlier, our recommendation is to start at the beginning of the Trail in Dennis, where the natural place to rent a bike, if you need one, is Barb's Bikes. They have literally hundreds of rental bikes available and charge $12 for two hours, plus $2 for every hour you keep it beyond that.
Other places you can rent, if you choose to start in a different part of the trail, include: Brewster Bike, Rail Trail Bike and Kayak (Kayaking along the trail is not recommended, by the way

) and Barb's Bikes in Brewster, Chatham Cycle in (you guessed it, Chatham), Idle Times Bike Shop and Mike's Bike Trail Rentals in Orleans, Little Capistrano and Idle Times in Eastham and yet another Idle Times location in Wellfleet.
Where ever you rent your bikes, though, be sure to check when the store closes. Otherwise, you'll find yourself racing back to beat the clock if you misjudge the length of your journey. In general, it will probably take you 10-20% longer to get back than it did to cycle out because you'll be tired. So if you leave at 2:00pm, and cycle for a couple of hours, you may struggle to get back in time for a 6:00pm close.
Another thing to note is that many Cape Cod stores have different hours of operation in season, than they do in the off-season. And while most consider in-season to be Memorial Day through Labor Day, some may have a different view. And some don't open at all if it's raining. So it's always best to check.
Places For Lunch or Snacks Along the Trail
You'll find several trail-side restaurants with bike racks and restrooms offering simple sandwiches, typical seafood shack fare, Mediterranean influenced meals at Ardeo and even a taqueria (El Guapo's) which serves a dynamite fish taco.
One of our favorite stops is the Hot Chocolate Sparrow in Orleans, which is well worth parking your bike for to grab a latte/cappuccino, pastry or ice cream. This is a funky little café that is always crowded and sells the local artwork that decorates the interior walls.
Return from Cape Cod Rail Trail to Cape Cod Activities
Return from Cape Cod Rail Trail to Home