---
Perfect Cape Cod Weddings
Cape Cod weddings are the perfect way for couples to say "I do".
No longer just the purvey of the rich and famous, destination weddings represent a booming and growing part of the $60 billion dollar US wedding industry, and there are few better destinations than Cape Cod to say (or renew) your vows.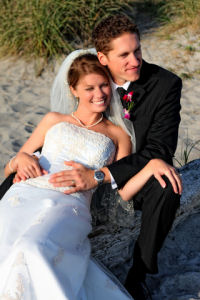 First of all, it's one of the most beautiful and romantic places in the world, which is no small advantage when planning such a public display of love as a wedding.
Secondly, it is within easy reach of anyone in the northeastern United States so your visiting friends and family won't necessarily have to break the bank to attend. In fact they can use your special day as an excuse to plan a mini-vacation of their own.
And thirdly, because Cape Cod weddings have become so popular over the years, there is an entire infrastructure of businesses, planners and consultants you can work with to make your special day even more special and turn it into an unforgettable experience for bride, groom and all the guests.
We have attended our fair share of Cape Cod weddings since we've lived here, and they really have all been very special events.
From the myriad places where you can hold the reception and rehearsal dinner to the smaller businesses who provide, flowers, photography or entertainment, the Cape is well set up to cater to your wedding planner's every need. We even have a magazine called Cape Cod Bride dedicated to the special needs of couples planning weddings on Cape Cod.
And with 99% of couples taking a honeymoon immediately after their wedding, you'll have the advantage of already being there and not having to add a stressful journey to what will have already been a pretty intense few days.
And if the stress and expense of huge wedding "event" is too much for you, there are a number of places that offer elopement weddings for up to ten guests.
We actually had an elopement wedding ourselves back in 1989, with a grand total of four guests, though we were living in Europe at the time so we chose to marry in Cyprus. But the rather "funky" way we chose to begin our lives together turned out to be a good predictor of the kind of marriage we have had.
Either way, there is, of course, a lot of work to do before you get to say 'I do', so in this part of the site, we'll take you through all the things you'll have to plan. We have a lot of friends who work in the wedding industry, so we'll ask them to write a few articles that will give you some pointers and help you on your way.
We have also started to compile a wedding directory of local businesses that will cater to your wedding needs. Feel free to contact any of the businesses we've listed, ask lots of questions and let your imagination run a little wild.
And let's not forget the gay community. Massachusetts is one of the few states in the nation where gay marriage is legally recognized, so a whole new industry has started to evolve to serve the gay community, particularly in and around Provincetown.
So whether it's a simple ceremony on the beach at sunset, or a lavish affair at one of the swankiest resorts around, a Cape Cod wedding is a perfect way for couples to start their lives together.
Related Links You May Find Useful

Beach-Wedding-Themes.com - Great ideas for beach wedding themes full of fun, fantasy and romance. Places to shop - things to make. Everything you need to make you beach wedding perfect!




Return from Cape Cod Weddings to Romantic Getaways




Return from Cape Cod Weddings to Home