My husband and I were out yesterday in Hyannis at Home Depot to purchase a new flag for our house to honor our men in uniform (you know who I mean "M.E.") for Independence Day and we decided that after trolling the aisles at that place we needed to realign our sensibilities with "un petit déjeuner".
Just as a little background (oh, get on with it Mary), since Hubby spent 3 months in the south of France two years ago he has been a regular francophile food-wise. It was he who suggested Pain D"Avignon Boulangerie and Cafe on Hinckley Rd in Hyannis. It is usually a pretty busy place and the parking is rather inadequate but as it was such a lovely day we figured that most folks would be out doing something other than eating lunch in such an odd area as is that where Pain D'Avignon is located. We were able to find a space and inside we went.
Almost immediately you are transported to the boulangeries that you see all over France. Lots of small tables and refrigerated cases of salads, pastries (not a great selection of those... but it is a boulangerie not a patisserie) and a whole wall lined with baskets of fresh breads and rolls.
You'll also find a great selection of small baguettes called demi-baguettes that have very simple fillings like ham and brie with just sweet butter spread on the bread. That is very typical of a boulangerie in France. But let's get to lunch already.
Hubby ordered Curried Chicken Salad on a croissant that was served with house made potato chips and cornichons and a Mediterranean Salad, while I ordered a Cubano Sandwich on a Rustic White Pocket also served with chips and cornichons.
Mr. B said that the Curried Chicken Salad was delicious. The chicken is tossed with cashews, raisins, curry and mayonnaise. He said that there was just the right amount of curry to give the chicken an exotic taste without overpowering the dish as a whole. I find the latter to be true in most places as some folks think that "more curry is better" while I believe the reverse is true.
The croissant was light and perfectly browned too. It really looked great.
My Cubano was also a terrific choice. Thinly sliced roast pork, ham and Gruyere cheese was pressed between the folds of a delicious roll that was spread with mayonnaise and dijon and topped with sliced cornichons.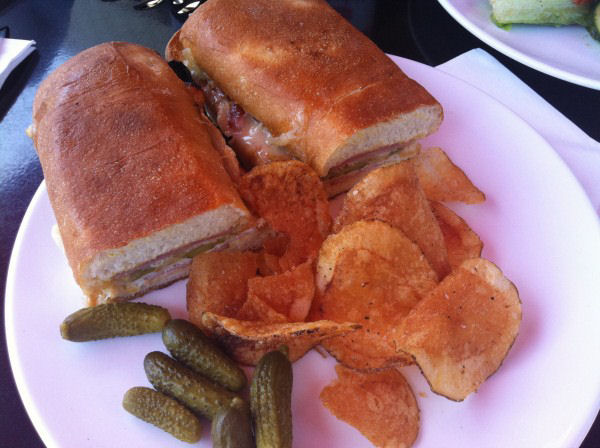 I thought that the Gruyere was a marvelous choice for the cheese portion of the Cubano as it really had a lovely nutty flavor that stood up to the rest of the flavors in the sandwich. All of those ingredients added up to a delicious and filling sandwich.
The house-made potato chips were sprinkled with just the right amount of sea salt and black pepper.
We had both decided to share the Mediterranean salad which was a bed of romaine leaves with a mixture of marinated vegetables on top. Freshly roasted red peppers, cucumbers, roasted tomatoes and roasted shallots mingled with kalamata olives, marinated baby artichokes and a sprinkling of feta cheese to make a light and beautiful salad My only complaint about the salad was that it was under seasoned. The vinaigrette could have used a little more vinegar and the whole dish needed salt. The salting is easily remedied but I don't like to add raw vinegar to a salad to "perk" it up. That really needs to be done in the making of the vinaigrette so that it is thoroughly emulsified..
A very small point.
We each enjoyed a bottle of a "micro-brew" soda called "Spindrift" (Mr. B had the Cranberry Raspberry and I had Pink (go figure) Grapefruit). The sodas were just OK... I like Izze's Pink Grapefruit better.
So after all of that, what did I think? I will definitely be back for more. The food is innovative in that it gives french flavor and texture to otherwise ubiquitous food and it is very fresh and served quickly. The cost is a little high at $34.00 (because of the $3 bottles of soda) for a quick lunch after Home Depot but it did remind both of us of that great little bakery in Brignoles in France where we often bought tartines and demi-baguettes for our daily excursions to the coast of the Mediterranean.
Go... eat there and enjoy.
Reviewed by Francois du Cap Moreau ~ Frenchy"

Key Information
Location: 15 Hinckley Road, Hyannis, MA
Open All Year Price Range: Breakfast and Lunch-$1.95-$15.95/ Dinner $8.00-$29.00
Telephone: (508) 778-8588
Website: www.paindavignon.com/
Independent Reviews
This, of course, is only our opinion. If you have eaten here, we ask that you tell us all about it (and upload photos, if you like) in the hope that independent reviews of local restaurants will be helpful to other couples as they plan their own trips.
Return from Pain D'Avignon to Cape Cod Restaurants
Return from Pain D'Avignon to Cape Cod for Couples Home