---
Aqua Grille in Sandwich
A Dining Hot Spot in Sandwich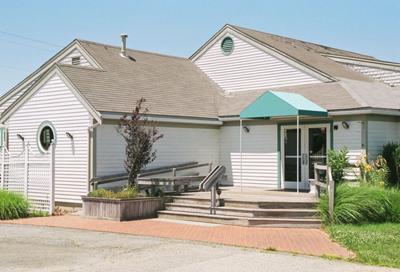 Aqua Grille is a great choice if you are vacationing in or around Sandwich, Ma. Tucked away in the Sandwich Marina, with great views of the Cape Cod Canal, Aqua Grille offers fresh seafood, steaks and German dishes. Vegetarians will find plenty of options here.
We've been eating here for years and they have changed their menu to reflect dining trends and highlight the Chef/Co-owner's German heritage. It's dependable, good and has a great happy hour with half priced appetizer specials running at specific times throughout the year.
Michael and I love their Calamari with chipotle aioli - add a nice Bacardi and Coke for Michael and a Grey Goose and Tonic for me and you've got a very happy Cape Cod couple. Their creole peel and eat shrimp is a very healthy sized platter of freshly boiled crustaceans with a spicy creole flavoring and that lovely chipotle sauce. This is a great appetizer to share.
We also love their Roadside Sliders, bite sized burgers topped with lettuce, tomatoes and onions. Order these sliders with the above creole shrimp and you've got a great low brow surf and turf.
For dinner, we usually go for any of the fish specials. I have always loved their nut encrusted fish with an orange buerre blanc sauce. They've added fish tacos (ironically, fish tacos only recently appeared on the Cape dining scene)which are very good.
But if you aren't a fan of fish, order the German inspired dishes. Their weinerschnitzel is quite tasty but since we have a problem with eating veal, we'll ask if they can substitue chicken instead. Their sauerbraten is delicious and is served with serviettenknodel- noodle dumplings that are like fluffy little pillows of tender pasta.
For dessert, order the creme brulee. No matter how filled we are, we always make room for it.
Check out their website for their menu and daily specials.
Key Information
Location: 14 Gall Road, Sandwich, MA
Open: April-October
Price Range: Dinner Entrées - $15-$25
Telephone: (508) 888-8889 (Reservations recommended)
Website: www.aquagrille.com/
Return from Aqua Grille to Cape Cod Restaurants
Return from Aqua Grille to Cape Cod for Couples Home