---
Brewster by the Sea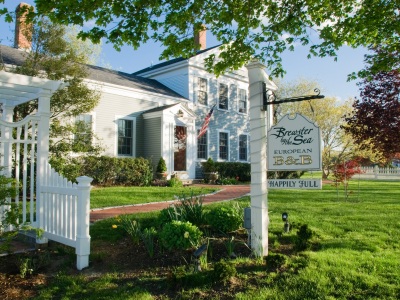 Brewster By The Sea Inn and Spa is an award-winning, romantic Cape Cod Bed and Breakfast with a distinct European flavor. That is because innkeepers Donna and Byron Cain traveled extensively in Europe in their previous careers prior to purchasing what was then the Brewster Farmhouse Inn back in 2003.
Since then they have renovated much of the property, and changed the name to Brewster By The Sea Inn & Spa to reflect the fact that this is more than just a Bed and Breakfast.
The eight rooms are divided between the four that are located in the Main House, built in 1846, and four more with fireplaces and whirlpool tubs that are in the Orchard House, which was added in 1998. All rooms have air-conditioning, cable TV, high speed WI-FI internet and free long distance telephone service.
An outdoor heated swimming pool is open during the summer months and an outdoor Jacuzzi is open year round. The gardens are also beautiful and provide a lovely backdrop for relaxing among the hydrangeas, chilling on the hammock or melting s'mores on the chiminea in the evening.
Donna serves a full three-course breakfast from 8am to 10am each morning, rotating from savory one morning to sweet the next. She embraces a farm to table philosophy and can also accommodate individual dietary concerns with additional options.
Visiting couples can make their stay even more memorable with a trip to the fireside spa room, which is the perfect setting to be pampered with a spa treatment or massage. In the summer, these spa treatments can be moved to the poolside gazebo where a backdrop of songbirds and refreshing sea breezes add to the relaxing mood.
Intimate weddings and elopements are also a specialty with and on staff wedding planner and a number of different packages offered to suit every budget.
Key Information
Location: 716 Main Street (Route 6A), Brewster, MA 02631
Open: Year-Round
Price Range: $125-$325 per night
Telephone: (800) 892-3910 - (508) 896-3910
Website: www.brewsterbythesea.com

Check Room Availability
Independent Reviews
We invite anyone who has stayed here to tell us all about their visit (and upload photos, if they like) in the hope that independent reviews will be helpful to other couples as they make their own travel plans.
Return from Brewster by the Sea to Cape Cod Bed and Breakfast
Return from Brewster by the Sea to Cape Cod for Couples Home