---
British Beer Company in Sandwich Massachusetts
Great Burgers and Pizza in an English-Style Pub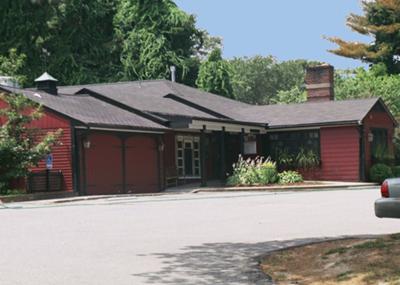 The British Beer Company in Sandwich Massachusetts, is one of three BBC locations on Cape Cod (there are several more off-Cape) and is a reasonably good spot to enjoy a quick lunch or dinner.
The restaurant is set out like a pseudo English-style pub, albeit more Disney-esque than authentic Old King's Head.
However, they do offer a wide range of "British" and American-style food including fish and chips, bangers and mash, Shepard's pie and pizza.
It's also the only place on Cape Cod that serves one of Michael's favorite beverages, Strongbow Cider (a sparkling, alcoholic version of what you might find at the local apple orchard in the fall).
If you love burgers, this is the spot to grab a pretty decent burger - Karen's favorite is the cheddar with caramelized onions. The meat is juicy and grilled to perfection.
And speaking of their pizza, it's a decent pie, particulary if you order the whole wheat crust. Michael loves the buffalo chicken style pizza but be warned, you'll end up needing a diuretic after eating a few slices.
They have a lively bar area which is a good spot to have a cocktail and enjoy the live music (it can be loud) and watch the rambunctious cougars in town. If Juggernaut is playing, sit back and enjoy Adam Hofmann on vocals and piano - Brilliant!
The crowd begins to get younger as as the evening wears on but, hey, it's your vacation so live it up.
Key Information
Location: 46 Route 6A, Sandwich, MA
Open: Year Round
Price Range: Dinner Entrées - $10-$18
Telephone: (508) 833-9590
Website: www.britishbeer.com
Independent Reviews
This, of course, is only our opinion. If you have eaten here, we ask that you tell us all about it (and upload photos, if you like) in the hope that independent reviews of local restaurants will be helpful to other couples as they plan their own trips.
What Other Visitors Have Said
Click below to see reviews from other visitors to this property

Love their pizza, hamburgers, Not rated yet
We've eaten at the BBC on Main Street in Hyannis. Good cheeseburgers and pizza which you can order with whole wheat crust.

They had live music on the ...
A BBC Chain Not rated yet
The BBC has a few locations and I have to agree that if you are looking for an authentic English pub, you're better off heading up to East Boston or flying ...
Return from British Beer Company to Cape Cod Restaurants
Return from British Beer Company to Cape Cod for Couples Home