***inc-adsense-4x-links.shtml**
---
Cafe Chew in Sandwich
One of our Picks for dining in Sandwich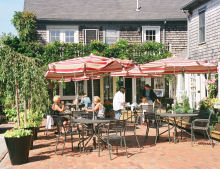 Located in Sandwich, Massachusetts, Cafe Chew is one of the newest Cape Cod restaurants opening last summer with a splash. For such a small town, Sandwich has some pretty darn good restaurants to grab breakfast, lunch or dinner. And Cafe Chew is one of our Sandwich Top Picks!
Okay, a disclosure - the owners, Tobin Wirt and Bob King are dear friends but this hasn't clouded our review.
It has a funky Euro feel inside and both Tobin and Bob are masters at making every guest feel like they've stepped into a friend's café.
It's a great place to grab breakfast, lunch and in the summer months, dinner. They've got a swanky espresso machine and experienced barristas pumping out lattes, expressos and cappuccinos.
They also have plenty of teas and if you are an ice tea lover (like Karen), be sure to order their homemade unsweetened tea.
Using local organic ingredients whenever possible, Cafe Chew has a regular menu plus several daily specials for both breakfast and lunch.. Our picks for breakfast include the steel cut organic oats, any of the pastries, and the omeletes. Karen is still raving over her carmelized onion, feta and spinach omelete.
The regular and specialty sandwiches, especially the Panini's, are wonderful. (As a New York Reuben Lover, Cafe Chew hits the mark with their version of this great sandwich).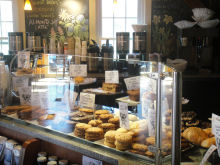 Freshly baked sweets!
Made from organic greens, there are plenty of salad variations to please everyone. We love their Asian inspired and Cobb Salads- ample portions, and fresh greens- plus you can get the dressing on the side.
In the warmer months, make sure to grab a seat on one of their two patios. The more secluded front patio has a lovely sculpture garden (some of the pieces are for sale). Be sure to pop in next door at Brush, an art gallery (love the tagline- make sure you Brush after you Chew) that is filled with some great work. The tables at Cafe Chew were painted by the artist.
Check out their website for their menu and daily specials- www.cafechew.com
Key Information
Location: 4 Merchant's Square, Sandwich, MA 02563
Open: Year Round
Price Range: Breakfast-Lunch $5.00 and up
Telephone: (508) 888-7717
Website: www.cafechew.com/
Independent Reviews
This, of course, is only our opinion. If you have eaten here, we ask that you tell us all about it (and upload photos, if you like) in the hope that independent reviews of local restaurants will be helpful to other couples as they plan their own trips.
What Other Visitors Have Said
Click below to see reviews from other visitors to this property

Food Haven in Sandwich! Not rated yet
Once again the dynamic partnership of Bob King and Tobin Wirt have given us a food haven right in the middle of town! An entirely new concept for Sandwich, …...
Love, Love, Love the Chew Not rated yet

It's just one of those places where you can sit, enjoy your eggs or sandwich and run into someone you know. We like that. But even if you're not from …...
Great Spot Not rated yet
We stopped here last year on our way to our cottage in Dennis to grab lunch and enjoyed this place. They have this Bavarian Sandwich- ham, apple and cheese …...
We love it here Not rated yet
We love this place. The food is delicious - fresh and you can tell the owners really care about the quality and their customers.
We have breakfast …...
Return from Cafe Chew to Cape Cod Restaurants
Return from Cafe Chew to Cape Cod for Couples Home