---
El Guapo's Taqueria in Brewster
Satisfy your south of the border cravings at El Guapo's Taqueria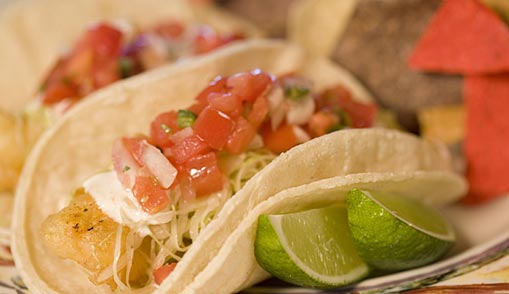 El Guapo's Taqueria in Brewster is a great litle Mexican joint adjacent to one of our favorite bike paths, the Cape Cod Rail Trail, so it's a terrific spot to take a pit stop and grab a carne asada!
We discovered El Guapo's Taqueria while pedaling through Brewster and we're glad we did because the food here is fresh and not like your typical Mexican-American restaurants. Since we make a fair share of Mexican food at home- not tacos, but Chicken Tinga and a magnificent Rick Bayless pork dish, we're confident that you'll like El Guapo's.
Karen loves fish tacos but complains that so many places on Cape don't offer this Baja inspired dish. Thankfully, El Guapo's does and its really good. They use a tempura batter on the fresh cod, so the fish is light and not weighted down by its coating, The cabbage slaw, subtle yogurt and mayo mixture make this dish one of their most popular items.
Michael, being the consummate carnivore, loves their carne asada and Mexican street corn, and although we haven't tried their "gringo' fare, we've heard from several friends that their burgers are fantastic.
Everything here is simple and fresh- just how Mexican food should be.
Luckily, they do serve cold beer, a welcome treat after a long bike ride. ( We know, we should stick to water...but...who can resist a cold one with a basket of homemade tortilla chips and fresh chunky guacamole?) We can't!
You can eat inside or grab a table outdoors. They've just expanded the deck adding more tables and there are plenty of bike racks for those hopping off the Cape Cod Rail Trail.
Check out their website for their menu and daily specials- www.elguapostaqueria.com
Independent Reviews
This, of course, is only our opinion. If you have eaten here, we ask that you tell us all about it (and upload photos, if you like) in the hope that independent reviews of local restaurants will be helpful to other couples as they plan their own trips.
What Other Visitors Have Said
Click below to see reviews from other visitors to this property

Finally found some great Mex food on Cape Not rated yet
Mexican food is not like the stuff you get at Sam Diego's or other chain like restaurants. It's simple with complex flavors and while in Brewster this ...
Return from El Guapo Taqueria to Cape Cod Restaurants
Return from El Guapo Taqueria to Cape Cod for Couples Home