---
Embargo Cape Cod
Tapas, Martinis and Entertainment on Main Street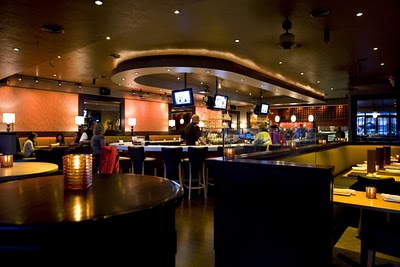 Culinary trends often arrive late to the Cape - Karen still has trouble finding a damn fish taco, but that's another story. The tapas movement finally made its mark here when Embargo opened up on Main Street in Hyannis, and they do a pretty good job of offering these bite sized snacks, even if they are not the most authentic dishes.
Located smack in the middle of Main Street, about as funky as one can get without heading up to P-town, Embargo has dozens of cold and hot tapas from the Cape inspired tempura Cod fingers to lamb lollipops with a pomegranate molasses sauce.
We happened to walk in when the tapas were half-price, and were naturally delighted because this is one Cape Cod Couple that loves to score a deal. We slipped into the comfortable bar seats and were pleasantly surprised by the urban decor - a nice change from the weathered wood and fake lobsters that adorn too many Cape Cod restaurants.
duck tapas
We settled on 7 tapas because, well, we love to eat and had a hard time deciding on what to order. As always, I got a half dozen raw oysters which disappeared as quickly as they came. Michael is hoping that I'll get off my bivalve bender because he just can't slurp them down. However, he did the Baked Oyster Casino, four oysters with bacon, boursin and parm cheese.
Also on the order were lamb "lollipops" which sound wonderful when the name rolls off your tongue but I just don't like the name. But Michael is English and when there's lamb on the menu, its bound to end up on his plate. Karen is not so sure she would order them again. But we will order the Kobe sliders and tempura fish fingers again.
Although Embargo is know for its martinis, this couple didn't order them. Instead, we downed our usual - Bacardi and Coke for Michael and a Goose vodka and tonic for Karen and they were average in price, strength and taste.
Later in the evening, the place turns a bit more lively with music and dancing till 1.00am. They do have some great specials so be sure to check out their website.
Key Information
Location: 453 Main Street, Hyannis, MA
Open: Year-Round
Price Range: Tapas - $3-$12 each
Telephone: (508) 771-9700
Website: www.embargorestaurant.com
Independent Reviews
This, of course, is only our opinion. If you have eaten here, we ask that you tell us all about it (and upload photos, if you like) in the hope that independent reviews of local restaurants will be helpful to other couples as they plan their own trips.
Return from Embargo Cape Cod to Cape Cod Restaurants
Return from Embargo Cape Cod to Cape Cod for Couples Home