---
Inn at Siders Lane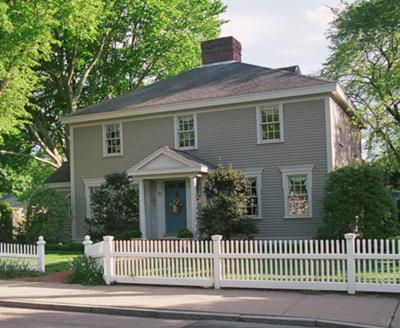 Tucked away in a quiet corner of Falmouth's village green, the Inn at Siders Lane is described by no less an authority than Fodor's as an "elegant B&B that blends traditional New England hospitality and 19th century style with modern amenities."
The inn is among the "youngest" in town, having been built in 1994 as a Federal reproduction of a stately home from the 18th century.
Its location really is excellent, being just a short walk from the shops and restaurants of Falmouth, yet nestled in a quiet corner of the green, seemingly far from all the crowds.
Hosts Jim and Maureen Trodden are gracious, friendly and welcoming. And they're always willing to "show you around" with maps, tourist information and restaurant recommendations.
Key Information
Location: 51 Main Street, Falmouth, MA 02540
Open: Year-Round
Price Range: $150-$195 per night
Telephone: (508) 495-4359
Website: www.InnatSidersLane.com
Independent Reviews
We invite anyone who has stayed here to tell us all about their visit (and upload photos, if they like) in the hope that independent reviews will be helpful to other couples as they make their own travel plans.
Return from the Inn at Siders Lane to Cape Cod Bed and Breakfast
Return from the Inn at Siders Lane to Cape Cod for Couples Home