---
Lyric Restaurant
Some dishes are a bit off tune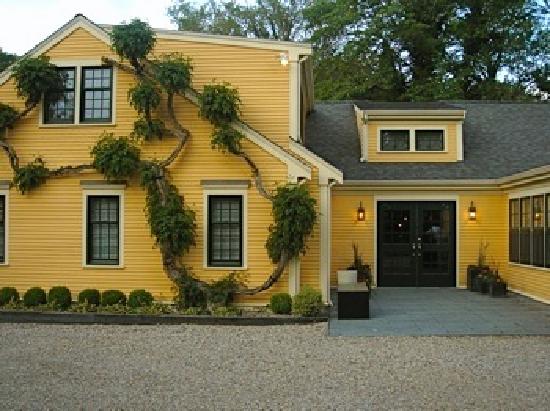 We ventured to Lyric Restaurant the other night to celebrate a birthday (mine), and took our teenage vegetarian daughter along for the festivities. And if you are looking for vegetarian options, you'll have trouble here unless you ask your server to check with the chef. We like to see vegetarian items listed on the menu.
Lyric is on 6A in Yarmouthport, housed in a delightful home like setting, with modern clean lines, not the typical Cape Cod restaurant décor, but after dropping close to $170.00, we're not sure if we'd go back.
Michael had the calamari for a starter, lightly breaded and fried but missing a spray of salt. No, we're not salt addicts and don't have a salt lick in our kitchen ( using it only in our cooking) but this starter, as well his pork dish, were missing the added flavor that could have been found in the kitchen's pantry.
The pear and house salads were good and ample, very similar to the types of salads I make at home.
I choose Sole Lyric, filet of sole with an almond crust but the potatoes, listed as roasted, were not what I had expected, more like a square hash brown, again missing the normally intense flavor that we expect from oven-roasted spuds.
Michael's pork shank was good, tender and meaty, but like so many of the dishes we sampled, lacked a depth of flavor. The daughter ordered little necks with linguine, garlic, oil and wine and being a fine connoisseur of her father's linguine and clam sauce, she wasn't impressed. The pasta was undercooked, unusual for our daughter to note this since it seems as though she drops the pasta in the pot and removes it minutes later.
Desserts were better. A cheesecake came topped with seasonable berries and the crème brulee was good, but not as creamy as we prefer.
I will say that the drinks were spot on, strong and large, always a plus in our books. The servers were very accommodating.
We really hope that it was just an off night because we think it could work with a bolder hand in the kitchen.
Key Information
Location: 43 Route 6A, Yarmouthport, MA
Open: Year Round
Price Range: Dinner Entrées - $17 an up
Telephone: (508) 330-0000
Website: www.lyriccapecod.com
Independent Reviews
This, of course, is only our opinion. If you have eaten here, we ask that you tell us all about it (and upload photos, if you like) in the hope that independent reviews of local restaurants will be helpful to other couples as they plan their own trips.
What Other Visitors Have Said
Click below to see reviews from other visitors to this property

Abicci Not rated yet
It was great when it was Abicci.

Return from Lyric Restaurant to Cape Cod Restaurants
Return from Lyric Restaurant to Cape Cod for Couples Home