---
Marshland Restaurant and Marshland Too in Sandwich
Home Cooking on the Cape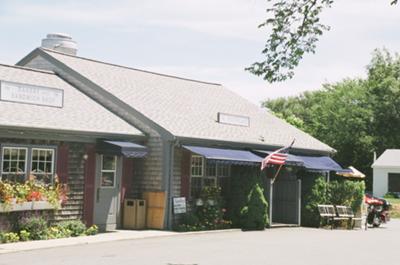 Marshland Restaurant and Marshland Too are two great spots to sample home style New England cooking in an informal setting. The original Marshland on Route 6A in Sandwich and Marshland Too on Cotuit Road in South Sandwich remains a favorite spot to grab breakfast, lunch and dinner.
If you go in for breakfast during the summer, be warned that you may have to wait- either go early or avoid the peak breakfast times and enjoy a later breakfast. Both spots draw big crowds for their homemade muffins and fabulous breakfast with great homefries, eggs, pancakes and waffles. We just about like anything off their breakfast menu.
You can always grab a coffee and breakfast to go at the Marshland on Route 6A and head over to Town Neck Beach. If you take a right out of Marshland, stay on the right which turns into Tupper Road. At the first railroad crossing, take a right onto Town Neck Road. Continue down Town Neck Road- there is a parking lot right to the side of Hemisphere Restaurant that you can park in and enjoy your take out (you'll need a sticker if its after 9.00am).
You can carry on toward the Sandwich Boardwalk if you drive a bit further- Town Neck Road turns into Freeman Avenue- Go to the end and take a left on Wood Avenue- The Boardwalk and Town Neck Beach is just a few hundred yards away. Again, if it's after 9.00am in the high season, you'll have to either have a sticker or pay the parking fee.
Daily lunch and dinner specials are reasonably priced. I particularly like their salads for lunch- the Cobb is fantastic and filling. Being a burger lover, I was surprised at how good they were here. At the risk of sounding old, we both enjoy the pot roast dinners.
Check out their website for their menu and daily specials- www.marshlandrestaurant.com
Key Information
Location: Route 6A and 315 Cotuit Road, Sandwich, MA 02563
Open: Year-Round
Price Range: Dinner Entrées - $10-$18
Telephone: Route 6A - (508) 888-9824; Cotuit Rd. - (508) 888-9747
Website: http://marshlandrestaurant.com/
Independent Reviews
This, of course, is only our opinion. If you have eaten here, we ask that you tell us all about it (and upload photos, if you like) in the hope that independent reviews of local restaurants will be helpful to other couples as they plan their own trips.
What Other Visitors Have Said
Click below to see reviews from other visitors to this property

Good Basic Food Not rated yet
Every time we visit the Cape - and it's been every year now for 10 years, we always make a stop at Marshland before heading up to Truro.

We like their ...
Return from Marshland Restaurant to Cape Cod Restaurants
Return from Marshland Restaurant to Cape Cod for Couples Home