---
North Truro Camping Area/Adventure Bound
Run by Adventure Bound who operates 9 campgrounds, North of Truro Camping Area has 330 sites and accomodates both tents and RV's.
With 330 sites for both tents and RV's this is a big campground. There are several seasonal campers and sites tend to be close together.
Like most Cape campgrounds, you won't be roasting marshmellows or gazing into a camp fire because they're not allowed.
But you can certainly grab a permit at the town hall in Truro and set up a fire on the beach. We think that's a better idea.
There is noting finer (well, maybe a few things) than spending a summer night watching the sunset over the Atlantic as your beach fire glows and crackles. Skip cooking at the campsite and grab some hotdogs and roast them for a true beach experience.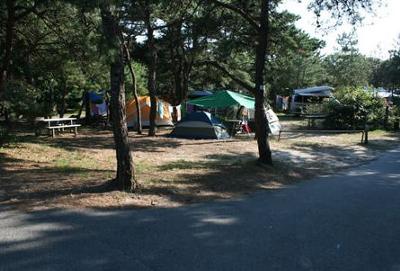 Key Information
Location: 46 Highland Road, Truro, MA
Open: Memorial Day- Columbus Day
Price Range: $36 for a primitive tent site to $159 for a premium trailer site. Minimum stay
Telephone: (508) 487-1191
Website: www.abcapecod.com
Independent Reviews
We invite anyone who has stayed here to tell us all about their visit (and upload photos, if they like) in the hope that independent reviews will be helpful to other couples as they make their own travel plans.
North Truro Camping Area to Camping Cape Cod
North Truro Camping Area to Cape Cod for Couples Home