Click to bookmark this page!
---
Pearl Restaurant in Wellfleet
In Every Oyster, There is a Pearl
Pearl restaurant is another great spot to grab innovative cuisine in the Town of Wellfleet. You'll notice a trend here, since it appears that many of our favorite Wellfleet restaurants are located within walking distance of one another - We like it this way since, if one is booked, we can always walk over to our next choice.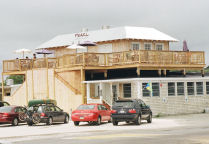 Pearl's roof-top deck
Pearl's roof top deck overlooks the Wellfleet Pier and has great views of Duck Creek. If you plan on sitting out on the deck for evening cocktails, bring a sweater or jacket. Once that fog rolls in, so too does the damp, cool air.

Like all of these Wellfleet restaurants we've listed, it has a great raw bar complete with the ubiquitous Wellfleet oyster. As far as I'm concerned, you can't eat enough of these briny bivavles. We had a dozen (well, me) and they were super, cold, salty and sweet.

Appetizer portions are generous so don't order more than two unless you are planning to have them as your meal.

We like the fact that you can choose your fish-shrimp, haddock, tuna, and lobster- and then order the sauce- lemon beurre blanc, mango salsa, etc. Sandwiches and burgers are also available for those who want a lighter meal.



Key Information
Location: 250 Commercial Street, Wellfleet, MA
Open: Memorial Day - End of Season
Price Range: Dinner Entrées - $20-$30
Telephone: (508) 349-2999
Website: www.wellfleetpearl.com
Directions: Route 6 to Wellfleet. Turn into town at the lights by the gas station and take Main St. towards Welfleet Harbor. Take a left onto E. Commercial St. at the town rowboat - E. Commercial St. soon becomes Commercial St. Pearl is at 250 Commercial St. on the corner of Commercial St and Kendrick Ave.
Independent Reviews
This, of course, is only our opinion. If you have eaten here, we ask that you tell us all about it (and upload photos, if you like) in the hope that independent reviews of local restaurants will be helpful to other couples as they plan their own trips.
Return from Pearl Restaurant to Cape Cod Restaurants
Return from Pearl Restaurant to Cape Cod for Couples Home