---
Sandwich Taverna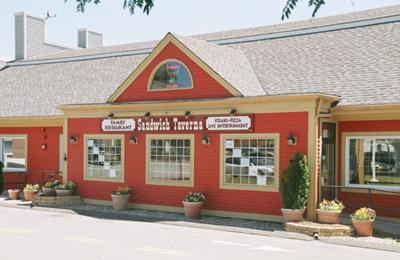 Located in Tradewinds Plaza in Sandwich, the Sandwich Taverna has a strong southwestern feel and bills itself as Sandwich's Premier Steakhouse, but somehow it hasn't really lived up to that title.
Sandwich's best burger joint might be more appropriate. We go there only for their Angus Burgers - char broiled monsters weighing in at 10 oz - and they really are very good.
Besides the burgers, though, this is not one of our favorite restaurants in town.
Friends of ours who eat out often say that they've had great meals here - the salmon and prime rib are among their favorites, but if you ask other folks, they'll tell you otherwise.
We tend to do just the burgers and will occasionally hit the bar for Bloody Marys and run-of-the-mill bar snacks.
Be warned though, later in the evening, this place fills up with a young and boistrous crowd of single men and women so its best to stop by earlier if you're looking for more of a couples night out.
Key Information
Location: 290 Route 130, Forestdale, MA 02644
Open: Year-Round
Price Range: Dinner Entrées - $10-$18
Telephone: (508) 888-2200
Website: None
Independent Reviews
This, of course, is only our opinion. If you have eaten here, we ask that you tell us all about it (and upload photos, if you like) in the hope that independent reviews of local restaurants will be helpful to other couples as they plan their own trips.
Return from Sandwich Taverna to Cape Cod Restaurants
Return from Sandwich Taverna to Cape Cod for Couples Home