---
Shawme-Crowell State Forest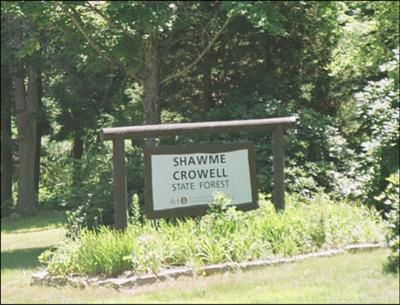 Karen's old school friend, Mike, comes to visit every August with his two boys and always stays at the Shawme-Crowell State Forest.
His boys love it and consider it one of the highlights of their summer.
It's a quiet year-round campground that covers over 700 acres of the Cape oldest town and has over 285 sites in a tranquil pine forest setting.
And yet, for all the peac and tranquility, you'll find you are surprisingly close to the center of Sandwich.
Parking access to the beach at Scusset State Reservation is included in camping fee.
While most people choose to visit during regular camping season between mid-April through mid-October, off-season camping is available.
We know of one group of middle-aged men who have a long-standing January ritual of camping there for one weekend in the dead of winter. Fortunatley, they haven't yet asked Michael to join them.

Key Information
Location: Rte. 130, Sandwich, Sandwich, MA 02563
Open: Year-Round
Price Range: $30-$60 per night
Telephone: (508) 888-0351
Website: www.mass.gov/dcr/parks/southeast/schr
Reservations: www.reserveamerica.com (All of the Cape's State Parks require that you make reservations through this website)
Independent Reviews
We invite anyone who has stayed here to tell us all about their visit (and upload photos, if they like) in the hope that independent reviews will be helpful to other couples as they make their own travel plans.
What Other Visitors Have Said
Click below to see reviews from other visitors to this property

Thumbs up for Shawme-

We camped here for the first time (based in part on this site's recommendation) and were very happy with the campground. Driving up to the Orleans, Chatham,...
Shawmee Crowell Not rated yet
Shawme Crowell is our favorite campground ever. The people who work there are very friendly and accommodating. The grounds are immaculate and so are the ...
Shawme-Crowell State Forest to Camping Cape Cod
Shawme-Crowell State Forest to Cape Cod for Couples Home