---
Sol
The sun rises on Wellfleet's harbor
Sol is the newest of the Wellfleet Restaurants, just around the corner from Mac's Seafood and up the street from the Bookstore. It is attached to W.H.A.T (the Wellfleet Harbor Actor's Theatre), its interior is a bit funky and it has an Asian inspried menu.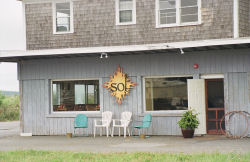 An exterior shot of Sol
They don't serve on China but plastic plates, which can bother some people since the entrees aren't what you would typically expect to get on plastic, but we like how it's a bit different and, hey, it's the Cape - land of the flip flops and t-shirts.
Be warned. Although the food is served on plastic, you won't be able to use plastic to pay for it. This is a CASH only restaurant - More than a few patrons have been caught off guard with that one.
Sol serves breakfast, lunch and dinner (no lunches) and although the portions aren't huge, they are wonderfully satisfying. We love the spicy Tuna Poke.
We also like that you can walk around the Wellfleet pier, taking in the delightful seaside sights. The Wellfleet pier area has quite a few restaurants and active boat slips so you can certainly sit back and watch the action.
Key Information
Location: 15 Kendrick Ave, Wellfleet, MA
Open: Memorial Day - October
Price Range: Dinner Entrées - $15-$20
Telephone: (508) 349-2424
Website: www.wellfleetpearl.com
Directions: Route 6 to Wellfleet. Turn into town at the lights by the gas station and take Main St. towards Welfleet Harbor. Take a left onto E. Commercial St. at the town rowboat - E. Commercial St. soon becomes Commercial St. Sol is at the Wellfleet Harbor Actor's Theater W.H.A.T.
Independent Reviews
This, of course, is only our opinion. If you have eaten here, we ask that you tell us all about it (and upload photos, if you like) in the hope that independent reviews of local restaurants will be helpful to other couples as they plan their own trips.
Return from Sol to Cape Cod Restaurants
Return from Sol to Cape Cod for Couples Home