---
The Bookstore
Books, Booze and Burgers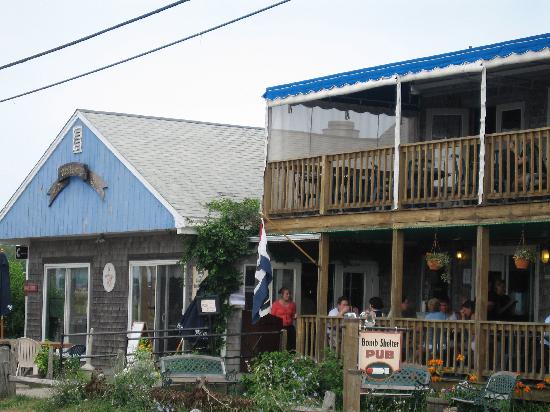 The Bookstore is both a book shop and a restaurant, just around the corner from Mac's Seafood, and a few yards from the Wellfleet Pier. We think it combines the best of all worlds - books, booze and burgers.
It serves breakfast (Saturday and Sunday only), lunch and dinner at reasonable prices, offering everything from the usual fried and broiled seafood items to pastas, burgers, sandwiches and stews.
Though we've never had terrible service, we've been told that it can be an issue so don't go in expecting the white glove treatment.
We love their clam chowder and the seafood reuben. Yes, I know that sounds odd, especially to this born and bred New Yorker, but it works. A nice sized portion of locally sourced cod, swiss cheesse and colesaw on grilled pumpernickel bread.
Another great sandwich is the Po' Boy - those delightful Wellfeet oysters make another appearance, this time deep fried with remoulade sauce on french bread. Not for those watching their bellies but, hey, you're on Cape Cod.
If your watching your waist, try their Portuguese Stew- a delightful medley of mussels, scallops, linguica, calamari in a spicy marinara broth served over pasta.
But be sure to pop in to buy a book or magazine. They have new, used and antique books and who doesn't love supporting a local bookseller?
The Bombshelter, just below the restaurant, is an interesting place to grab a beer and shoot some pool. If darts or foosball is your thing, they've got you covered.
Check out their website for their menu and daily specials.
Key Information
Location: 50 Kendrick Ave, Wellfleet, MA
Open: Year Round
Price Range: Lunch/Dinner Entrées - $10-$18
Telephone: (508) 349-3154
Website: www.wellfleetoyster.com
Directions: Route 6 to Wellfleet. Turn into town at the lights by the gas station. Follow sings for Wellfleet center and town pier. Take the first feft onto E. Commercial Street and follow as far as the pier. Follow as the road turns right onto Kendrick Ave. The Bookstore about a mile down on the right.
Independent Reviews
This, of course, is only our opinion. If you have eaten here, we ask that you tell us all about it (and upload photos, if you like) in the hope that independent reviews of local restaurants will be helpful to other couples as they plan their own trips.
Return from The Bookstore to Cape Cod Restaurants
Return from The Bookstore to Cape Cod for Couples Home