---
Tomatoes Italian Bar and Grille in Sandwich
Don't let the Strip Mall Fool You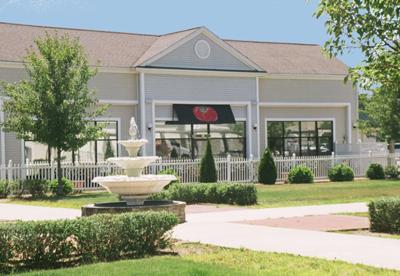 Tomatoes Italian Bar and Grille is our favorite Italian restaurant on Cape Cod and it happens to be located right in our home town of Sandwich. It's our local hang out and is one of the more lively restaurants in Sandwich.
Although it is located in a 'strip mall' type shopping center, don't let the outside fool you. It's as urban as the Cape can get and the food is good.
The bar is lively, with many couples choosing to have their meal right at the counter - and be careful how many vodka martini's you knock back. They are potent and worth every dollar. One vodka and tonic just about does me in.
As an oyster lover, I always start my meal with an order and haven't been disappointed. Michael loves their calamari available with a side of marinara or tossed with a spicy pepper and olive mixture. Michael prefers the plain version.
We both love the Pork Osso Bucco, a meaty shank of fall of the bone pork that stands at attention in the center of the bowl, surrounded by creamy risotto and a delicious tomato amd mushroom based sauce. Also worth a taste is the Scallops Portofino, scallops in a light cream sauce with spinach, served on a bed of pasta.
We recently stopped by for a bite after watching a movie at Heritage Theaters, which is a few yards away, and had the Prime Rib Special with garlic mashed spuds, match stick sized onion rings and a horseradish cream sauce. Delicious.
If you go on a Friday or Saturday night, it's best to call ahead and make a reservation. Entrees range from about $10.00 for a simple marinara to $28.00 for a big old ribeye and there are plenty of vegetarian pasta options.
If you go in the height of summer, try and get an outside table. There aren't very many of them, but those they do have look out onto a nice grassy area with a water fountain and some gardens (see photo).
As noted earlier, the surroundings aren't the nicest for a top-flight Italian restaurant on Cape Cod, but this area is as pretty as you can get in Heritage Plaza.
Check out their website for their menu and daily specials- www.tomatoescapecod.com
Key Information
Location: Heritage Park Plaza, Route 130, Sandwich, MA 02644
Open: Year-Round
Price Range: Dinner Entrées - $15-$30
Telephone: (508) 888-6008
Website: www.tomatoescapecod.com
Independent Reviews
This, of course, is only our opinion. If you have eaten here, we ask that you tell us all about it (and upload photos, if you like) in the hope that independent reviews of local restaurants will be helpful to other couples as they plan their own trips.
What Other Visitors Have Said
Click below to see reviews from other visitors to this property

Need to reserve table in summer

We ate here several times over the course of the summer and everyone of our guests liked their dinner. The service is relaxed. We didn't feel rushed. …...
Return from Tomatoes Italian Bar and Grille to Cape Cod Restaurants
Return from Tomatoes Italian Bar and Grille to Cape Cod for Couples Home