---
The Town of Chatham Mass for Couples
The Town of Chatham has perhaps the most vibrant Main Street business district of all the towns on Cape Cod. Maybe Hyannis's Main Street can match it for liveliness, but Chatham's is markedly more upscale.
With its maritime heritage, energetic cultural scene, diverse shopping and terrific restaurants, this lovely town on the "elbow" of Cape Cod is a wonderful place for couples to visit at almost any time of year.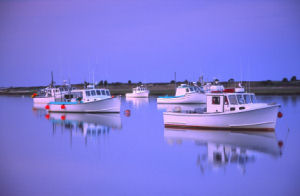 Chatham Harbor
We love to go there just for an afternoon stroll through a downtown that can easily be navigated on foot or by bike, if the idea of a car-free vacation appeals.
Most of the stores are locally owned, so you really do get a sense of the real Cape Cod, and they have a long tradition of serving tourists from all over the world as well as locals like us.
For those more interested in natural beauty, there is the National Wildlife Refuge, which spans three islands off the coast of the town, North Monomoy, South Monomoy and Morris Island.
The 7,600 acre sanctuary offers an amazing array of wildlife, mostly birds that use the islands as a resting, nesting and feeding habitat. It's also a great place to view harbor and grey seals in the winter time.
The town of Chatham is one of the oldest on Cape Cod and has the distinction of being the eastern most point in Massachusetts. Since the town is surrounded by water on 3 sides, its summer temperatures can be noticeably cooler than other parts of the Cape, so much so that a sweater can be necessary at night, even in the height of summer. There is also the famous Chatham fog that can greet you when you get up in the morning, but has usually burned off by lunchtime.
Among the many points of interest that Chatham offers are:
Chatham Lighthouse
Fisherman's Monument
The Atwood House Museum
The Railroad Museum
And in the evenings there are loads of things to keep you entertained. The Anglers of the Cape Cod Baseball League has been renamed for 2009 since Major League Baseball had issues with their previous name, the Athletics, but their games at Veterans Field are sure to be just as much fun as they always were. On Fridays in the summer time, there is live music at the Whit Tileston Band Stand in Kate Gould Park, right on Main Street, which draws big crowds for music, signing and dancing.
And the Monomoy Theatre, the summer home of Ohio University Players performs up to eight plays during June, July and August.
Return from Town of Chatham to Cape Cod Towns
Return from Town of Chatham to Cape Cod for Couples Home