---
The Town of Mashpee for Couples
When we first moved to the Cape in 1990, the town of Mashpee was considered by many to be something of a poor relation to some of the Cape's other more upscale towns. It was unlike any other Cape Cod town in that it didn't really have any downtown or Main Street business district. In fact, back then, it didn't even have a high school.
But a lot has changed, since then, and our neighbor to the south has now become a terrific town for couples to visit, both for its unique native American Culture, and more traditional Cape-like attractions, (most notably golf and shopping) that have seen it catch up and even surpass the neighboring town.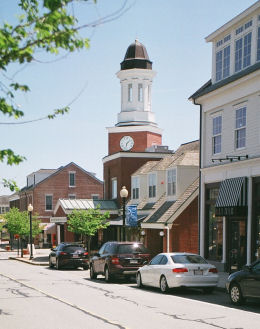 Market Street, Mashpee Commons
Shopping
Much of the town's emergence in recent years has been due to the ongoing development of Mashpee Commons,, which has become the de facto town center. With over 250,000 square feet of retail space, it is the premier shopping center on the Upper Cape, but don't make the mistake of thinking this is "just another shopping mall". It really is a terrific place to spend time, even if, like Michael, you hate to shop.

Laid out like a traditional New England town, and open to the elements, just like a real town center, Mashpee Commons is a far more enjoyable shopping experience than, say, Cape Cod Mall in Hyannis, and it really has transformed the entire town into a legitimate destination that rivals any of the other towns on Cape.

In addition to stores, some name-brand and some local, there are some terrific restaurants, tea shops, art galleries and a six-screen movie theater. There are even a few dozen residential units, with plans to add many more in upcoming phases of development.
Sporting Couples
In addition to shopping, the town of Mashpee is the home to New Seabury, a community of mostly summer homes for wealthy families that contains two world-class golf courses. Mashpee is also home to Willowbend and the Quashnet Valley Country Club, and Ballymeade Country Club, one of the most celebrated of all Cape Cod's golf courses is also just down the road in Falmouth.
Cultural Couples
But the thing that makes Mashpee different from any other town on the Cape is its unique native American culture. Formerly a reservation for the Wampanoag Indians, the town still has a distinctive culture that can not be found anywhere else on Cape Cod.

The annual Wampanoag Powwow is a celebration of that culture that has been held every year since 1924. It's well worth a visit if you're in town over the July 4th Holiday. There is also an Indian Museum in town which offers a glimpse of native American culture throughout the rest of the year.

Besides Native American Culture, Mashpee Commons hosts a number of cultural activities. Every Wednesday throughout this summer, for example, there is a free performace by acclaimed all-female a cappella group, Cape Harmony on the Village Green, and the Citizen's Bank Summer Concert Series features Thursday night performances showcasuing every style of music from big band sounds to celtic folk.

And once a year, in late July, perhaps Mashpee's biggest cultural event of the year is Mashpee Night at the Pops, also held at Mashoee Commons. This is an outdoor Pops concert featuring the Cape Cod Symphony Orchestra and a wonderful fireworks display. It really is a terrific evening if you can be in town that weekend.




Return from Town of Mashpee to Cape Cod Towns




Return from Town of Mashpee to Cape Cod for Couples Home