---
Our Cape Cod Bike Trail Guide
If you enjoy biking, our Cape Cod bike trail guide will help you find just what you're looking for from among the many Cape Cod bike trails. We have several well developed biking trails that will take you through marshlands, by canals, over sand dunes, into forests, around kettle ponds, and along the shore of the magnificent Atlantic ocean.
From the Cape Cod Rail Trail that runs from Dennis to Wellfleet to the Shining Sea Bikeway in Falmouth, we have riden them all.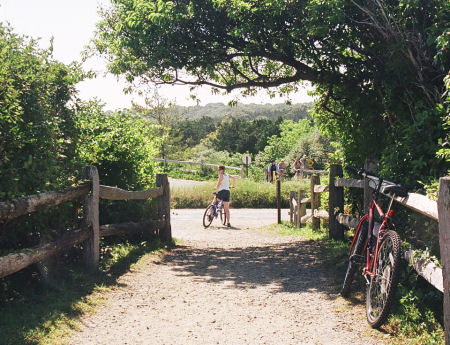 Each Cape Cod bike trail offers a little something different from the others, and all are a terrific way to spend time together exploring the Cape, admiring the scenery and getting a little exercise at the same time.
If you didn't bring a bike, don't worry. There are lots of places you can rent one for the afternoon, the day or even the week. We'll give you the skinny on the best rental places, too.
And if you're looking for a bike ride with a little more of an edge to it, there are some off-road trails for mountain bikers that are well worth checking out (though we're sorry to say that you won't have the benefit of being able to stop along the route for an ice cream).
Here, then is our Cape Cod bike trail guide.
Cape Cod Rail Trail (Round Trip 44 Miles)
The largest and best known Cape Cod bike trail is the Cape Cod Rail Trail. Recently widened and repaved at a cost of over $6 million dollars, the bike path runs from Dennis to Wellfleet and meanders through just about every type of terrain found on Cape Cod. At twenty-two miles each way, the Cape Cod Rail Trail offers both casual and avid bike riders great scenery and exercise with several spots to pick up the trail along the way.
The Cape Cod Rail Trail runs along the former path of the Old Colony and Penn Central Railroad tracks that used to transport passengers from....more.
The Shining Sea Bike Path (Round Trip 21 Miles)
Located in Falmouth, this scenic but flat seaside bike trail has recently been extended to ten-and-a-half miles in lenghth. It hugs Buzzards Bay and Vineyard Sound ending in Wood's Hole. You can either park your car at the beginning of the trail or join it in Falmouth at Depot Street, near the ice rink. The trail leads you through cranberry bogs, salt marshes, a small residential area, and then past the beautiful ocean views along Surf Drive.
Be sure to wear a swimsuit because a quick dip in the warmer waters of Falmouth is a great way to cool off. There are several eateries in Wood's Hole and plenty of bike racks. Although you won't break too much of a sweat on one of the most beautiful bike trails on Cape Cod, the Shining Sea Bike Path is simply gorgeous! more.
Province Lands (Distance 5.45 Miles)
Our favorite trail, this gives you the best work out of all the Cape Cod Bike Trails. With steep hills and hairpin curves, this narrow and often bumpy trail winds through the dunes of Provincetown. In addition to a pretty good workout, it will treat you to sweeping views of the ocean as well as carrying you through a lovely and flat forest and marshland area. Be careful of the sand that often blows on the trails - one slip here can mean a trip to the Emergency Room if you aren't paying attention.
The trail passes Herring Cove Beach, a unique Cape Cod Beach that has oceanside changing rooms and a snack bar. Herring Cove Beach has a funky retro feel, its building and small promenade looking like something from the 1960s. Because the water is a bit warmer here and you'll have most certainly worked up a sweat, bring your bathing suit and towel. You can also stop at Race Point Beach, the tip of the Cape and have a swim there, though the water there can be very chilly.
Be warned, this trail has some vessel popping hills, the ones where most folks need to stand up and use all their weight to move the pedals, but this bike trail is simply gorgeous and worth the perspiration, heart palpitations and wobbly legs.
From Province Lands, you can bike directly into Provincetown, a town best navigated by foot or bike. And there are plenty of places to lock up your bike.
Cape Cod Canal Bike Paths (Round Trip 14 Miles)
These are really two trails, one running each side of the Cape Cod Canal from Sandwich to Bourne. They are perhaps Karen's least favorite of the Cape Cod bike trails (no hills), though Michael actually quite likes them (no hills). Many people do love to bike, run, rollerblade and walk on this wide, well-paved path. We'll ride the canal bike trail when we don't have enough time to head to the other trails.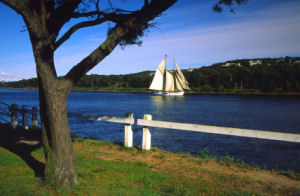 You can do a round trip journey in roughly 45 minutes, going at a moderate pace. It can be crowded with lots of kids and older folks, particularly in the beginning, so you may have to dodge them as you make your way toward the middle of the trail.
Because this is a dog friendly trail, keep an eye out for them and what they often leave behind. I can't tell you the number of times that we both have ended up running over piles of poop!
The north side trail, on the mainland side of the Canal is slightly longer (7 miles) than the south side (6.5 miles) and both are subject to brisk winds even on still days.
At the Sandwich entrance (the south side), there is parking but sometimes getting a spot can be tricky during peak exercising times. There are more parking spaces on the north side.


Return from Cape Cod Bike Trail Guide to Cape Cod Activities
Return from Cape Cod Bike Trail Guide to Home