---
Cape Cod Melody Tent
Ever since 1950, the Cape Cod Melody Tent has been at the center of the Cape's cultural scene. It is located in Hyannis, just beyond the West End Rotary, and is exactly what the name suggests, a music venue underneath a big tent.
Originally known as the Cape Cod Music Circus, this blue big-top-type tent was originally conceived as a theater (one of the first of its kind in the country) and attracted some of the biggest stars of Broadway and Hollywood to its stage, including Ginger Rogers, Douglas Fairbanks Jr., Angela Lansbury and Debbie Reynolds.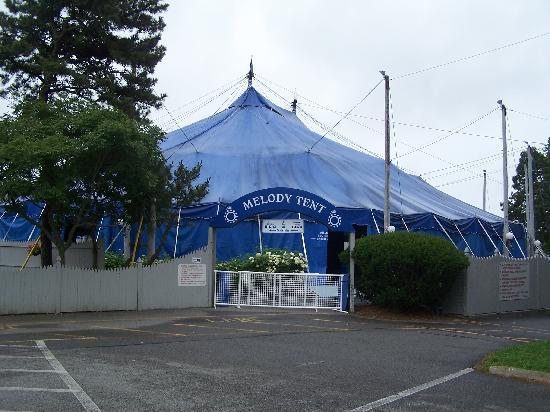 But over time, the Melody Tent proved to be more suited to variety acts and musical performers like, Bob Hope, Benny Goodman, Dizzy Gillespie, Tony Bennett and Rosemary Clooney.
Nowadays, it serves as Cape Cod's premier venue for popular music, albeit popular music that is often a few years removed from present day. The B-52s, KC and the Sunshine Band, Hanson, and Huey Lewis and the News are some of acts who have appeared in recent years.
Occasionally, though, more current acts also find their way onto the schedule, such as American Idol Adam Lambert.
The Cape Cod Melody Tent is not the largest music venue you'll ever attend, but the intimate size is part of the appeal. It may seat only 2,250 people, but a revolving stage guarantees that everyone gets an excellent view, and no seat is further than 50 feet from the stage.
Insiders' View
We used to joke that a sure sign of a person's advancing age was when an act they used to love showed up at the Melody Tent. It's not so funny anymore.

The B-52s' Love Shack was the song on the radio when we first moved here, and hearing it always brings back memories of our newlywed days. And now (Yikes!) they're playing the Melody Tent?

Michael says he's hanging them for good when the Red Hot Chili Peppers show up there.

.
Because of its limited size, the Melody Tent doesn't attract the biggest acts in the land, often bringing in artists who, though well known, had their biggest hits quite a few years ago. But a scan over the list of those who have appeared there over the years will throw up some pretty impressive names, such as Carole King, Ray Charles, the Beach Boys and Aretha Franklin.
Karen saw Tom Jones there a couple of years ago and, while Tom's is hardly the kind of music she usually listens to, she had a great time. The tent really does have a nice atmosphere inside and the acoustics are superb, thanks to a state-of-the-art sound system that is specifically designed for this kind of theatre-in-the-round.
Parking is also free and very close by, although getting out after the show can be such a hassle that its often better to park on Main Street and walk a few blocks to and from the show.
And the Cape Cod Melody Tent doesn't only cater to music lovers. Comedy nights are sprinkled in between the music, as well as theatrical productions, the Annual Cape Cod Chowder Fest, and even the occasional wrestling bout.
Since 1990, when it was purchased by South Shore Playhouse Associates, the Melody Tent has been a non-profit venture, with proceeds funding other cultural initiatives throughout Cape Cod.

Check out the Hyannis Melody Tent event schedule.
Independent Reviews
If you are familiar with this Cape Cod activity and would like to let others know what you think, you can submit a review right here (and even upload photos, if you like). The hope is that independent reviews will be helpful to other couples as they plan their own trips.
Return from Cape Cod Melody Tent to Town of Barnstable
Return from Cape Cod Melody Tent to Cape Cod for Couples Home