---
The Town of Barnstable for Couples
The town of Barnstable is the largest on Cape Cod and is the center of county government for the region. There are seven distinct villages, including Hyannis, which is really more like a town, and is the transportation hub of Cape Cod, being the home of the main bus terminal, the largest airport and the Cape's biggest harbor from where you can take the Ferries to Nantucket and Martha's Vineyard.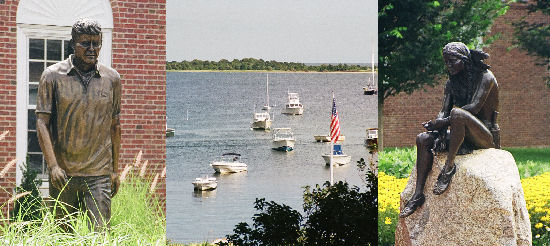 Barnstable Village is on the opposite side of town to Hyannis and, in many ways offers an opposite view of the Cape as compared to the main commercial center. Its main thoroughfare is Route 6a, which winds through a charming village filled with restaurants, antique shops, restored sea captains' homes and white-steepled churches. The County court house is here, so there is certainly lots of activity, but it's a different kind of bustle to that offered by Hyannis.
Other villages within the town of Barnstable include Marstons Mills, Osterville, Centerville and Cotuit, all of which have their own charms and attractions.
---
Cultural Couples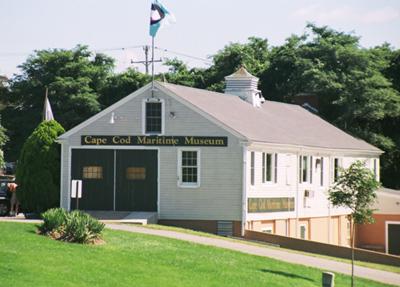 The Cape Cod Maritime Museum, located right on Hyannis harbor, tells the story of the Cape's unique relationship with the ocean, celebrating Cape Cod's maritime past, as well as its present and its future. Admission is $5.00 (free with your Go Boston Card
).
Insider Tip
If you plan to take in some of these attractions, or plan to take a trip to either Nantucket or Martha's Vineyard, you can save money with a Go Boston Card.
Don't be put off by the Go Boston name. Plenty of participating attractions are on the Cape, including the Cape Cod Maritime Museum, the JKF Museum, and ferries to the islands.
Check out this Cape Cod discounts page to find out how the program works and whether a Boston Go Card is a good deal for you.
The annual Pops by the Sea concert is held once each year on the Hyannis Village Green on the first Sunday afternoon in August. The concert regularly attracts a live audience of over 15,000 and marks the only Cape Cod appearance each year of the Boston Pops Esplanade Orchestra.
The John F. Kennedy Hyannis Museum, is dedicated to preserving the memory of the 35th President of the United States, and particulalrly his ties to and love for Cape Cod. Admission is $5.00 (free with your Go Boston Card
).
Downstairs in the same building as the JFK Museum is the Cape Cod Baseball League Hall of Fame, which is a celebration of all the baseball greats who began their careers with the beloved Cape Cod league. Admission is $5.00 (free with your Go Boston Card
).
The Cape Cod Symphony Orchestra, led by the acclaimed conductor and musical director Jung-Ho Pak, is the second largest professional symphony orchestra in Massachusetts, after the Boston Symphony Orchestra, and presents Classical and Pops concerts throughout the year at the Barnstable Performing Arts Center, at Barnstable High School, 744 West Main St., Hyannis.
Check any number of art galleries and art museums dotted throughout the town of Barnstable. One of our favorites is the Cahoon Museum of American Art in Cotuit, which is located on Route 28 about half way between Hyannis and Mashpee and is well worth a visit. Route 6a has up to a dozen more.
---
Trips and Excursions

The Cape Cod Central Railroad, gives you a chance to go back in time and relive over 150 years of Cape Cod railroading history. The train ride takes you past Sand dunes, salt marshes, woodlands, and cranberry bogs all the way to the Cape Cod Canal. Cost is $20.00 (free with your Go Boston Card
).

One quintessential Cape Cod excursion is a Hyannis Whale Watch although the name is a little misleading since the boats leave from Barnstable Harbor, not Hyannis. It really is a wonderful way to spend a few hours, though, and something you'll remember for a lifetime.

A Hyannisport Harbor Cruise, will take you on a pleasant one-hour cruise past the Kennedy Memorial and Squaw Island on board a replica on a Maine Coastal steamer. Cost is $16.00 (free with your Go Boston Card
).
Ocean Street Dock on Hyannis Harbor is where ferries leave for both Martha's Vineyard and Nantucket, and day trip (or longer) to either island is a wonderful add-on to a Cape Cod vacation. Fares vary depending on whether you choose high speed or standard passage. (A Go Boston Card
will get you to either island for free on same-day standard passage and will allow you to upgrade to high speed for $26 for Martha's Vineyard and $32 for Nantucket.)
---
Places to Stay in the Town of Barnstable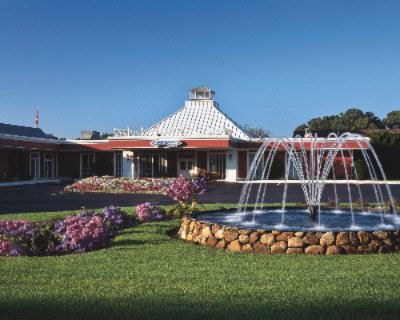 The Cape Codder Resort and Spa
in Hyannis provides a perfect location for visiting couples who are looking for a central location from which to explore the entire Cape. It's located on Route 132 in Hyannis, which makes it very convenient for getting onto Route 6, into downtown Hyannis or to catch ferries or planes to the islands.
Luxurious suites include oversized jacuzzis and working fireplaces, and the Beach Plum Spa will pamper you with a soothing couples massage more...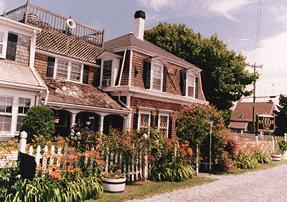 Sea Breeze Inn, Hyannis
The Sea Breeze Inn in Hyannis is very close to the Hyannisport Harbor (not to be confused with Hyannis Harbor) as well as one of the Cape's most beautiful beaches. The uniquely decorated guestrooms all have modern amenities, air-conditioning and en suite bathrooms.
Couples can relax in the garden or on the rooftop deck overlooking Nantucket Sound. An expanded continental breakfast is offered each morning. more...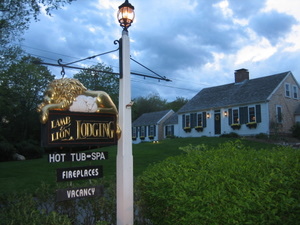 Lamb and Lion Inn
is on the quieter side of town, but still conveniently located on beautiful Route 6a on the outskirts of Barnstable Village. It's just a ten minute drive from Hyannis, two minutes from Barnstable Village and a short walk from the beach. The whale watching boats of Barnstable Harbor are also just a few minutes away.
The four acres of grounds offer plenty of space for guests to relax and the ... more...
---
Where to Eat in the Town of Barnstable

The town of Barnstable has a number of terrific places to eat. Alberto's on Main Street in Hyannis is one of our favorite Italian restaurants on the Cape, and Dragon Lite is similarly one of our favorite places for Chinese food, so we head for Main Street quite often. Also on Main Street is Embargo, which combines a terrific tapas menu with a lively atmosphere.

And it's just a short stroll from Hyannis Main Street to the Waterfront District, where you'll find some terrific waterside dining.

Outside of Hyannis, the Regatta in Cotuit is one of the top restaurants on Cape Cod. No less an authority than Zagat rated it in its 2005-06 edition as "the best dining on Cape Cod, bar none".
---
Party Couples

Hyannis Main Street is abuzz with activity in the summertime from late afternoon till well after our bedtime. There are a number of bars and clubs in the area, as well as plenty of good places to eat.

At the West end of Main Street is the Cape Cod Melody Tent, where you can see concerts and shows of some pretty well-known performers (most, admittedly, at the tail end of their careers). Recent acts include the Beach Boys, Huey Lewis and the News, the B-52s and Joe Cocker.
---
Sporting Couples

One of the more famous beaches in the town of Barnstable is Kalmus Beach, known as the windiest beach on Cape Cod and a terrific place for windsurfing and kiteboarding.

Barnstale also has the distinction of being the only town on the Cape that has two Cape Cod Baseball league teams, the Hyannis Mets and the Cotuit Kettleers. You can check out each team's schdule here.

There are also no fewer than eight golf courses in the town of Barnstable, more than any other town on the Cape. Our favorite is the Olde Barnstable Fairgrounds in Marstons Mills.
---
Return from Town of Barnstable to Cape Cod Towns
Return from Town of Barnstable to Cape Cod for Couples Home