---
Josiah Sampson House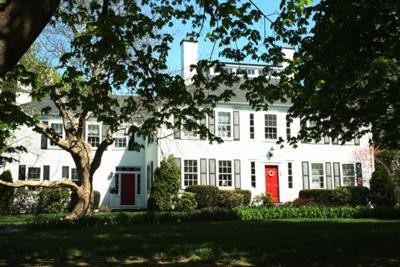 The Josiah Sampson House is a Federal-style New England house built (circa 1793) by prosperous businessman Josiah Sampson. At the time, it was so elegant that it came to be known by locals as Sampson's Folly.
Now it is listed on the National Register of Historic Places, and serves as a welcoming retreat for visiting couples from all over the world. Owners Richard Thomas and Joe Gergyes took over in 2007
The six spacious and comfortable guest rooms are each decorated with an eclectic mix of antiques and period reproductions. All rooms have a private modern bath.
Guests can enjoy a gourmet breakfast in either the dining room or, weather permitting, the garden.
The six spacious guest rooms are each decorated with the guests' comfort in mind.
The beach in Cotuit on Nantucket Sound is only about a mile away and several bicycles are available for guests to use in town.
The house is Wi-Fi equipped for easy use of powerbooks or laptops, and a guest computer is also available for researching activities, dining and destinations.
The house is located in the heart of quaint and picturesque Cotuit (one of the seven villages that make up the town of Barnstable), just a few steps from Main Street.
For sporty couples, the house is located right next door to the Kings Grant Racquet Club, which offers a reduced rate for guests wishing to use either the hard or clay tennis courts there.
Lowell Park, the home field of the Cape Cod Baseball League's Cotuit Kettleers is also within walking distance.
Key Information
Location: 40 Old Kings Road, Cotuit, MA 02635
Open: Year-Round
Price Range: $129-$229 per night
Telephone: (508) 428-8383
Website: www.josiahsampson.com
Independent Reviews
We invite anyone who has stayed here to tell us all about their visit (and upload photos, if they like) in the hope that independent reviews will be helpful to other couples as they make their own travel plans.
Return from Josiah Sampson House to Cape Cod Bed and Breakfast
Return from Josiah Sampson House to Cape Cod for Couples Home