---
Karoo Kafe
South African Cuisine in the Heart of Provincetown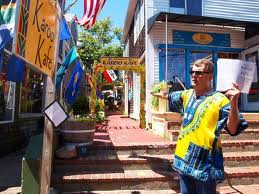 Karoo Kafe is the type of restaurant that each time you walk by, you say something like, "We should try that someday."
Well, we just happened to be biking Province Lands and pedaled into Provincetown, with beachy hair, no make up (Karen), faces colored by that notoriously difficult bike path and the blazing sun when we decided today was the day to taste South African cuisine.
Located in the West End of Provincetown on Commerical Street, Karoo Kafe is tucked behind retail shops, but you'll notice their bright yellow sign shaped like South Africa. We cruised up on our bikes, parking them alongside the Kafe (best to actually find a proper bike rack- there are plenty in town) and went inside to order lunch.
Their menu isn't large but since we weren't too familiar with South African Cuisine, we asked for recommendations.
Karen ordered the Peri-Peri Chicken Pita and Michael the Lamb Burger and though we really wanted to toss in a falafel, kibbi and samosas, we had to head straight back home to drive the teen to work and didn't have time to relax over lunch-boo-hoo.
You can either sit indoors in a small comfy room decorated in vibrant colors or dine on the sheltered patio, which is where we parked our bottoms.
Within a few minutes our order arrived in those red plastic woven baskets that bring back memories of greasy fries, drippy burgers and milkshakes- and that's a good thing.
My Peri-Peri- Chicken Pita ($8.25)was filled with grilled chicken drizzled in peri-peri sauce, lettuce, tomatoes and chutney, wrapped up inside a thick pita. If you haven't tried Peri-Peri, which was its roots in Portugal and Africa, you're in for a surprise. It's a sweet and spicy sauce that is simply divine and Karoo Kafe's version has a great complexity and depth to it.
Michael's Lamb Burger ($8.25)was tasty, and he just can't get enough of that lamby taste since leaving England over two decades ago. It was topped with Tzaziki but he added....ketchup. But hey, he's British and doesn't like cukes.
Vegetarians, Vegans and those on gluten free diets have plenty of options from Curried Tofu Pie, Pumpkin Kibbi, Vegetable Pakoras and a Vegetairan Plate (hummus, stuffed grape leaves, falafel, etc) And the prices at Karoo Kafe are reasonable- something of a rarity in Provincetown. Lunch including drinks came to a little over $20.00.
Now that we've finally eaten at Karoo Kafe, we'll be back to sample the falafel's, bobotie and curried lamb stew. Check out their website for their menu and specials- www.karookafe.com
Key Information
Location: 338 Commercial Street, Provincetown, MA
Open from 11.00am-9.00pm
Price Range: Sandwiches- $7.95 and up- Entrées - $8.25-$14.25
Telephone: (508) 487-6630
Website: www.karookafe.com/
Independent Reviews
This, of course, is only our opinion. If you have eaten here, we ask that you tell us all about it (and upload photos, if you like) in the hope that independent reviews of local restaurants will be helpful to other couples as they plan their own trips.
Return from Karoo Kafe to Provincetown Mass Restaurants
Return from Karoo Kafe to Cape Cod for Couples Home