---
Provincetown Mass for Couples
Located at the tip of Cape Cod, Provincetown Mass is perhaps, apart from Hyannis, the most famous town on the peninsula. It offers a unique experience to visitors, combining a bustling slice of 'city life' together with a side of a campy seaside village.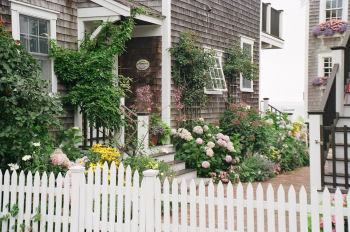 Provincetown is one of our favorite towns on Cape Cod, and we try to get there as often as possible, not only for the fabulous restaurants and people watching but also for its charm and diversity.
In all honesty, if we had to pick one 'must-see' town on Cape Cod it would be P-Town.
The summer brings vacationers from every walk of life, young families, gay and straight couples, singles and tour buses filled with retirees, so be prepared for the crowds.
Commercial Street runs through the center of town and is lined with all types of restaurants from small cafes to top notch Italian and seafood restaurants, with art galleries and assorted boutiques sprinkled in between.
Keep on eye out for the beautiful flower gardens further along Commercial Street where you'll often see homeowners and B&B guests enjoying cocktails as they watch folks stroll by. Be sure to check out the litle narrow streets off Commercial- you'll discover some great houses, gardens, and B&B's.
---
Same Sex Couples

It's no secret that Provincetown is a Mecca for gay people, both male and female, who come for vacation, to party, and to celebrate their lifestyle in a place where they know they will not be judged for it.

In fact, Provincetown, Mass has been voted the best Domestic Gay Resort Town for the last three years in a row by Planet Out.

Family week is a favorite time when pairs of moms or pairs of dads can be seen pushing strollers or heading to the beach with kids in tow. And the third week in August brings carnival, a raucous celebration of all that is gay.

Carnival is also great fun and very crowded so if you plan on vacationing during this week, plan ahead- make those lodging and dinner reservations well in advance. It's a lot of fun if you're of an open-minded disposition. If you're not, then you probably shouldn't come.
---
Places to Stay in Provincetown Mass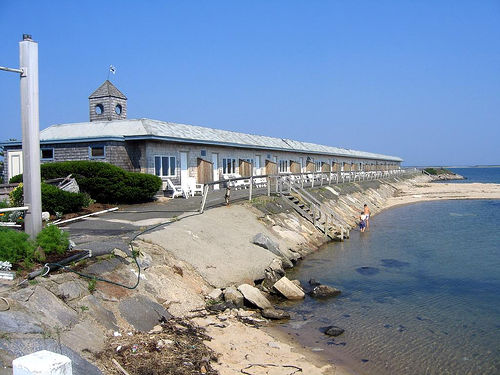 Provincetown Inn
This 100 room resort is located at the very tip of Cape Cod just minutes from the center of Provincetown.
It offers a private beach and an outdoor pool, as well as an on-site pub with nightly theater performances. The outer edge of the Cape Cod National, with all the natural beauty of its beaches, dunes and woodlands, is just a short bike ride away. more...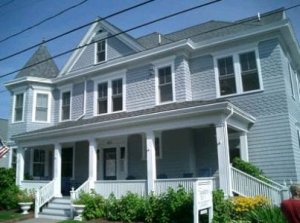 Sandpiper Beach House
This downtown Provincetown property overlooks the Harbor and the Atlantic Ocean. On the main floor is an apartment that features a furnished deck with barbecue facilities and a fully equipped kitchen with dish washer.
Guests can relax on the front porch or take a stroll to the ocean a the back deck that is within a 5-minute walk of the center of P-Town. more...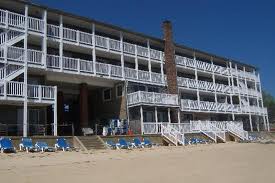 Surfside Hotel and Suites
This is a newly renovated property located in Provincetown Mass and offering waterfront rooms with sliding doors that open onto balconies onto a private beach overlooking Cape Cod Bay.
All rooms come with a complimentary continental breakfast, free parking, outdoor heated pool and a private beach. more...
---
Trips and Excursions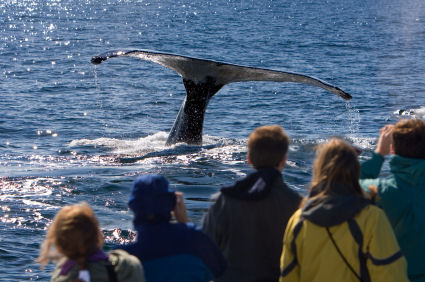 A Provincetown Whale Watch is one of those quintessential Cape Cod activities that really is a "must do" trip. As educational as they are fun, trips last about four hours and whale sightings are guaranteed.
Another "must do" trip is with Art's Dune Tours, which offers daily one hour narrated tours through the majestic sand dunes and National Seashore park that surround P-Town. The sunset tour, in particular, is highly recommended for visiting couples.
If you're visiting from outside of New England, and you haven't had a chance to visit Boston before, you can take a ferry across Cape Cod Bay for a Boston day trip, as long as you're here between the months of April and October. Boston is a wonderful place to visit, filled with history, culture and world class restaurants.
---
Cultural Couples

Ever since 1620, it seems, Provincetown Mass has been fighting a losing battle in trying to correct the popular misconception that the Pilgrims first landed in the New World at Plymouth. They actually came to Provincetown first, and even signed the Provincetown Covenant here. So the 242 foot tall Pilgrim Monument it there as a reminder to historians, and the public at large. The monument, and the adjoining Provincetown Museum are well worth a visit.
The Provincetown Art Assiciation and Museum is the anchor of the Provincetown Art Colony and hosts over 200 events each year, including exhibitions, workshops, gallery talks and concerts.
The Provincetown Jazz Festival attracts artists from as close to home as Provincetown and as far away as New York City and even Europe. It consists of three concerts, each featuring two acts, held on Friday evening, Saturday evening and Sunday afternoon. All events are held at the Provincetown High School and tickets are $25 per concert.
---
Where to Eat in Provincetown Mass
Karoo Kafé is a South African restaurant tucked behind retail shops in the West End of Provincetown on Commerical Street. The bright yellow interior and a menu that includes Buffalo Burgers, Karoo Bunny Chow, Boerewors Rolls and Ostrich Sattay make for a truly unique dining experince.
Also hidden behind Commercial Street, but equally worth searching out is Jimmy's Hideaway. This is a more traditional Cape Cod restaurant with a really cozy and relaxed vibe, very friendly staff and excellent food.
Just down the street from Jimmy's Hideaway is Cafe Heaven, which is our favorite place for breakfast in Provincetown. It's a tiny place so be prepared to wait for a table. The eggs benedict and the corn and banana pancakes are real winners.
If you can't decide whether you want Italian, or Thai, or any number of other choices, Napi's on Freeman Street has perhaps the most diverse menu in town. Michael had the Scallops Provenacal the last time he ate there and loved it.
See more Cape Cod Restaurant recommendations.
---
Active Couples

One of our favorite things to do is take on the Province Lands bike trail, the most strenuous of the "big four" Cape Cod bike trails. It takes you through a quiet Beech forest, over a number of sand dunes and along Herring Cove beach, one of the Cape's most unusual and charming seaside spots.

Another great thing about Province Lands, is that the bike trail leads directly into the center of P-Town - and it's certainly much easier to find a bike rack than a parking spot!

Leave your car at one of the parking lots on the trail, either the Beech Forest lot or the one at the Province Land Visitors Center, and navigate through town by bike and on foot. Not only will you save a few bucks (parking is never cheap in P-Town, except perhaps on Tuesday afternoons in January), but you'll have a lot less hassle picking your way through streets that get pretty crowded during peak season.

As long as you're wearning "sensible shoes" you can take a walk along the Breakwater Jetty. It's very uneven in places, and about a mile long, but it leads to a wonderful secluded beach that's well worth the hike.
---
Return from Provincetown Mass to Cape Cod for Couples Home
Return from Provincetown Mass to Cape Cod Towns