---
Macs Seafood
Wellfleet's Best Seafood Shack
Mac's Seafood, on the Wellfleet Town Pier, is a typical seafood shack, sitting smack in the middle of the tiny but bustling Wellfleet Harbor.
Mac's is always busy, with lines of vacationers and locals waiting for their seafood fix. Serving up fried and broiled fish, clams, scallops, oysters, burritos, wraps, sushi, burgers, Mac's menu is exhaustive.
You'd be hard pressed not to find something that you like.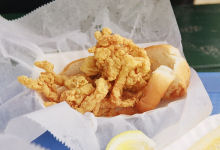 those tasty clam strips
We've spent what seemed like hours trying to figure out what to order. We especially like the clam rolls, tender, crispy little fellows dunked in tartar sauce- life doesn't get much better.

It can be difficult to score a table- it's outdoor seating here, with a great view of the ocean and pier, so be prepared to wait.

You can always sit on the beach so make sure you bring a chair or beach towel.

We like the assorted burritos and all of the fried seafood because when it comes to seafood, sometimes, only fried will do. Their onion rings are light and crispy. You really can't go wrong with just about anything off their menu.

Just be prepared to order quickly if you somehow find yourself in line. Tip- stay to the back and don't get rushed into ordering.

Make sure to take some time after your meal to walk along the harbor area and enjoy the sites. Perhaps rent a boat? Or take a swim at the beach within walking distance?
Mac's Seafood
Check out their website for their menu and daily specials.
Key Information
Location: 265 Commercial Street, Wellfleet, MA
Open: Summer only
Price Range: Lunch - $10-$15
Telephone: (508) 349-0404
Website: www.macsseafood.com
Directions: Route 6 to Wellfleet. Turn into town at the lights by the gas station. Follow sings for Wellfleet center and town pier. Take the first feft onto E. Commercial Street and follow as far as the pier.
Independent Reviews
This, of course, is only our opinion. If you have eaten here, we ask that you tell us all about it (and upload photos, if you like) in the hope that independent reviews of local restaurants will be helpful to other couples as they plan their own trips.
Return from Macs Seafood to Town of Wellfleet
Return from Macs Seafood to Cape Cod for Couples Home