---
PB Boulangerie Bistro
Wellfleet's Newest Dining Spot Earns Rave Reviews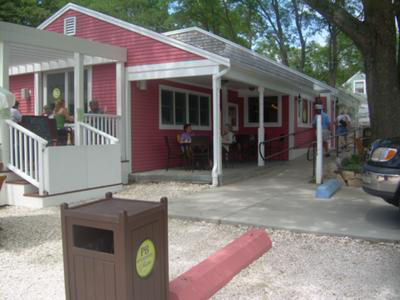 Our good friends Tobin and Bob (of Cafe Chew in Sandwich) have been raving about PB Boulangerie Bistro for the past several weeks so we decided to head up there last weekend. And their accolades were spot on. PB Boulangerie is a little jewel - a bistro and bakery offering classically French dishes, breads and pastries.
Chef Philippe Rispoli, who has worked with noted French chef and restauranteur Daniel Boulud, and Baker Boris Villatte, worked extensively in France before bringing their years of knowledge and expertise to Wellfleet.
Michael had the Croque Madame- two hearty portions of their freshly baked bread, topped with gruyere, mornay sauce, razor thin ham and an over easy egg. Super! In fact, I'd spear as many forkfuls as I could.
I ordered a half dozen Wellfleet Oysters, and as always, they were delicious. Cold, briny and served nestled on a bed of crushed ice, lemon, cocktail sauce and mignonette sauce. Skip the cocktail sauce and lemon and go right to the mignonette, the perfect accessory to the bivalves.
Their yummy Croque Madame
At the front of the bistro, you'll find their magnificent breads and pastries. We grabbed a batard, with a nice and crunchy crust, an eclair and an apple tart for the road and let's just say, it didn't last the journey home (In fact, Michael's barely made it out of the parking lot).
They opened up for dinner on Bastile Day (July) and if their dinner items are as good as breakfast and lunch, expect the lines to be much longer.
They have inside and outside seating.
Key Information
Location: 15 Lecount Hollow Rd, South Wellfleet, MA
Open: Wed-Sun - 7:00am-7:00pm
Price Range: Breakfast/Lunch - $15-$25; Dinner Entrées - $20-$30
Telephone: (508) 349-1600
Website: http://pbboulangeriebistro.com/
Independent Reviews
This, of course, is only our opinion. If you have eaten here, we ask that you tell us all about it (and upload photos, if you like) in the hope that independent reviews of local restaurants will be helpful to other couples as they plan their own trips.
Return from PB Boulangerie Bistro to Town of Wellfleet
Return from PB Boulangerie Bistro to Cape Cod for Couples Home