---
Sandwich Glass Museum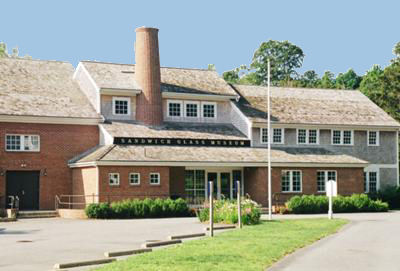 The museum is right in the Center of Sandwich, Massachusetts

The Sandwich Glass Museum is operated by the Sandwich Historical Society and traces the town's history through the prism of the huge glass factory that was built here in 1825.

When Deming Jarves founded the Boston & Sandwich Glass Company, he did so because of the town's shallow harbor, the promise that a canal would be built nearby, opening up sea routes to New York City (that one only took about a hundred years to come to fruition

), and the plentiful supplies of wood that could be used to fire the furnaces.
While the original company lasted barely sixty years, and the entire glass industry of Sandwich had pretty much disappeared by the 1920s, the Sandwich Historical Society does a good job of combining the history of the town with the aesthetic appeal of the glass itself.
The Museum sponsors a number of glass exhibits, as well as the annual Cape Cod Glass Show, and visitors can actually watch glass blowing demonstration, as well as a 20 minute video that tells the story of Deming Jarves and the huge glass factory that once dominated the town.
Key Information
Location: 129 Main Street, Sandwich, MA
Hours: 9:30am-5:00pm Daily (April-Dec)
Admission: Adults $5.00 (free with your Go Boston Card
).
Telephone: (508) 888-0251
Website: www.SandwichGlassMuseum.org
Independent Reviews
If you are familiar with this Cape Cod activity and would like to let others know what you think, you can submit a review right here (and even upload photos, if you like). The hope is that independent reviews will be helpful to other couples as they plan their own trips.
What Other Visitors Have Said
Click below to see reviews from other visitors to this property

Great Museum and Gift Shop
We visited the Sandwich Glass Museum with an organized tour and it is truly interesting to see the history of glass in Sandwich. If you love glassware, …...
Return from Sandwich Glass Museum to Sandwich Massachussets Cape Cod
Return from Sandwich Glass Museum to Cape Cod for Couples Home