---
Sandwich Massachusetts for Couples
Sandwich Massachusetts is our hometown, a quintessential New England town first incorporated in 1639, which makes it the oldest town on Cape Cod and one of the oldest settlements in the United States.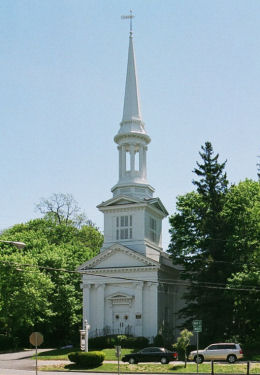 It is an ideal starting point for couples wanting to explore the Cape, with quaint Bed and Breakfasts, restaurants, historical and recreation sites and several antique and retail shops to keep you busy. It is quiet and, if you are expecting a lively nightlife, you should perhaps look further down Cape.
The Village is the most scenic part of Sandwich, complete with an idyllic white church which overlooks Shawme Pond and the Dexter Grist Mill. Located on Water Street, the First Church of Christ may look familiar to Elvis fans - it graced the cover of Elvis's famous spiritual album.
---
Cultural Couples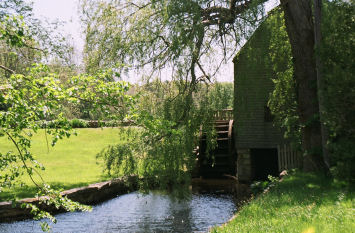 Sandwich Massachusetts is known as the Cape's museum town, with no fewer than twelve museums calling the place home. Dexter Grist Mill Was built in 1654 and is a working mill right in the center of town. You can tour the small gristmill for $1.50 and the cornmeal is available for purchase for $7.50 a bag. This area is a popular photographic spot for brides and prom couples because it borders Shawme Pond. Very pretty.
Insider Tip
If you plan on seeing some of these attractions, you can save money with a Go Boston Card.
Although it's billed as Go Boston, a number of the participating attractions are on the Cape, including Heritage Gardens and the Glass Museum.
Check out our Cape Cod deals page that explains exactly how the program works and how much you can save with a little bit of planning ahead.
A few steps away from the Dexter Grist Mill on Water Street is the Thornton Burgess Museum, dedicated to preserving the memory of famed children's author Thornton Burgess who was born in Sandwich. Inside you'll find memorabilia related to Thornton Burgess, a series of Harrison Cody illustrations, and homemade jams from the Green Briar Kitchen.
The Hoxie House, was built in 1675 for Reverend John Smith, his wife and their 13 children and is the oldest house on Cape Cod. In the 1800's retired whaling Captain Abraham Hoxie bought the property, giving the house his name. Open from mid June through October, the Hoxie House charges a mere $1.50 for admittance. These excellent tours are filled with interesting historical facts.
The Sandwich Glass Museum does a nice job of tracing the town's history through the prism of the huge glass factory that was built here in 1825. The museum is open from 9:30am to 5:00pm each day between the months of April and December. Admission is $5.00 for Adults (free with a Go Boston Card
).
About three quarters-of-a-mile from the center of town, heading west along Route 130, you'll find Heritage Museum and Gardens. You can walk there from the center of town. Three of Sandwich's twelve museums are located there, as well as some beautifilly landscaped gardens, some wooded trails, a cafe, and a concert stage. Admission is $12.00 (free with your Go Boston Card
).
---
Places to Stay in Sandwich Massachusetts
The Belfry Inn
The Belfry Inn is really three B&Bs in one - the Abbey, a former church, The Painted Lady, the former rectory, and the Village House a federal style home.
The three combined offer some of the most elegant accommodations on Cape Cod right in the heart of downtown Sandwich, which is itself arguably the Cape's most picturesque town center. more...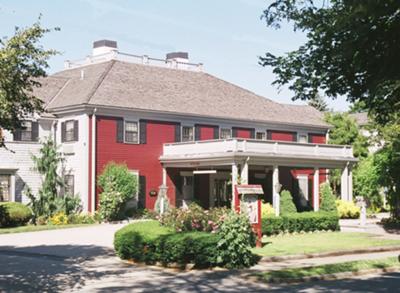 The Dan'l Webster Inn
The Dan'l Webster Inn is Sandwich's largest bed and Breakfast and has offered Cape Cod lodging in the center of town for over 300 years.
Couples can enjoy all the romance and ambience of the past coupled with modern conveniences, such as oversized whirlpool tubs, a heated pool and wireless internet more...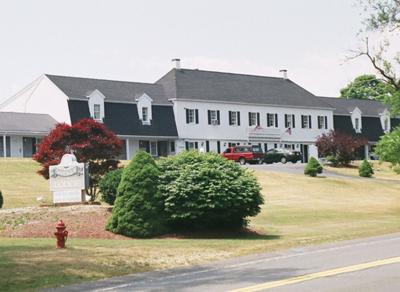 Sandwich Lodge and Resort
If you are looking for a comfortable and pleasant Cape Cod motel in Sandwich, with an indoor pool and a complimentary breakfast, the Sandwich Lodge and Resort is a good option.
The staff is friendly, the rooms are clean, and the motel is right next door to the BBC more...
---
Where to Eat in Sandwich Massachusetts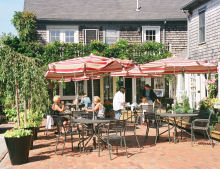 Café Chew is located in Merchants Square and is a terrific place for either breakfast or lunch. It has a funky Euro feel inside. as well as a lovely patio and a garden. Our good friend Tobin Wirt and Bob King own it and are masters at making every guest feel like they've stepped into a friend's café.
A mile or so out of town on the banks of the Cape Cod Canal is Aqua Grille, one of our favorite Cape Cod Restaurants. We love their Calamari with chipotle aioli, and their nut encrusted fish with an orange buerre blanc sauce is another winner.
Our favorite Italian restaurant in Sandwich is Tomatoes Italian Bar and Grille in Heritage Plaza between Cotuit Road and Route 130. The bar is lively, with many couples choosing to have their meal right at the counter, and their Pork Osso Bucco is to die for.
See more Cape Cod Restaurant recommendations.
---
Active Couples

Kayaking on Scorton Creek in East Sandwich is a wonderful way to spend either a morning or an afternoon (check the local tide charts to determine which). You can either rent kayaks or sign up for a guided kayak tour with Mike Morrison at RideAway Kayaks along Route 6a.

A bike ride or a stroll along the Cape Cod Canal will start off in Sandwich and take you about seven miles into Bourne. You can stop in and see the Aptucxet Trading Post Museum along the way.

One of our favorite hikes in Sandwich Massachusetts is a behind the dunes at Sandy Neck. You will have walked several miles into Barnstable before you're done and, since most of it is in soft sand, you'll certainly have got a workout. But it really is quintessential Cape Cod and you'll see some wonderful scenery.
---
Return from Sandwich Massachusetts to Cape Cod Towns
Return from Sandwich Massachusetts to Cape Cod for Couples Home