---
The Town of Brewster for Couples
Considering its status as a tourist destination, you might think it odd that the Cape Cod town of Brewster does not have a single hotel or motel within its borders. But a call to the local Chamber of Commerce will confirm that, besides the famed Ocean Edge Resort, they only have B&Bs (defined as having three rooms or less) and inns there, which all adds to the charm of the place and makes it a terrific place for visiting couples to stay.
While it may lack the kind of town center that epitomizes most other Cape Cod towns, Route 6A, already one of the most scenic roads in New England, is perhaps its most picturesque as it winds through town of Brewster.
At its heart is the Brewster General Store, located at 1935 Main Street. The building was originally a church when it was built in 1852, but was converted into a general store just six years after completion. It's a real slice of Americana, selling everything from toys to cards, cooking supplies, jams, candies, and lots of small knick-knacks.
With sea captains homes, antique shops, art galleries and restaurants dotted all along the main street, Brewster certainly has its charms, so much so, in fact, that it is considered by some to be the wedding capital of Cape Cod. There are dozens of unique locations from which wedding couples can say their vows, including 300 acres of beaches and several inns and stately homes that specialize in weddings.
Brewster's only coastline faces the Cape Cod Bay, where the water is a little cooler and the waves a little less impressive than on the south side,. Nonetheless, Breakwater beach is a favorite, particularly at low tide when its tidal flats extend out almost a mile into the bay.
---
Historical Couples
Insider Tip
If you plan on seeing some of these attractions, you can save money with a Go Boston Card.
Although it's billed as Go Boston, a number of the participating attractions are on the Cape, including the Cape Cod Museum of Natural History.
Check out our Cape Cod deals page that explains exactly how the program works and how much you can save with a little bit of planning ahead.
The Stony Brook Grist Mill and Museum Herring Run is one of the oldest water-powered grist mills in the country, and still grinds cornmeal to this day on summer weekends. Visiting couples can actually buy a bag for $2.00 and bake their own cornbread. In addition to the mill, there is a lovely stream there, with pathways on each side and a places of historical interest.
The Cape Cod Museum of Natural History is a source of great pride for the town of Brewster, and rightly so. It's a fascinating place to visit. You can learn all about the natural history of the Cape and there are several lovely trails that will take you through salt marshes, forests, and beach. Admission is $8.00 (free with your Go Boston Card
). If you go during school vacation time there will almost certainly be a lot of young kids and families there, and even during the school year, this is a popular place for school field trips.
History-loving couples will also get a kick out of the New England Fire and History Museum which offers a glimpse back to the days when firemen fought fires in horse-drawn trucks and fought local fires with hand pumps and buckets. There are 35 antique fire engines on display as well as lots of other firefighting memorabilia.
---
Places to Stay in the Town of Brewster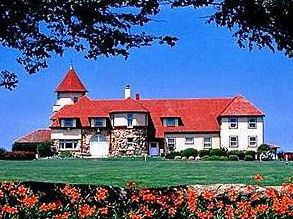 Ocean Edge Resort and Golf Club
Ocean Edge Resort and Golf Club combines an historic mansion overlooking Cape Cod Bay with over 400 acres of land on which sit a stunning array of amenties, including Cape Cod's only Nicklaus Design golf course, 11 tennis courts, four swimming pools, a 26-mile bike trail and even a croquet lawn.
It really is a splendid place for a romantic getaway particularly for couples who play golf and have a need for a little pampering. more...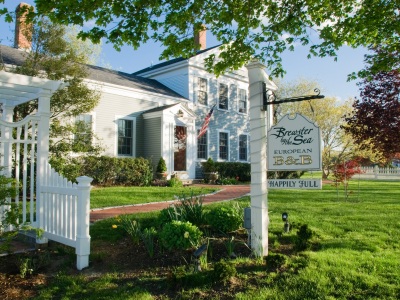 Brewster by the Sea Inn & Spa
award-winning, romantic Cape Cod Bed and Breakfast with a distinct European flavor. The eight rooms are divided between the four that are located in the Main House, built in 1846, and four more with fireplaces and whirlpool tubs that are in the Orchard House, which was added in 1998.
All rooms have air-conditioning, cable TV and high speed WI-FI internet service. more...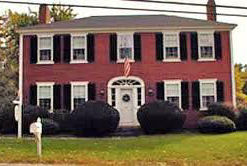 Pepper House Inn - Bed And Breakfast
Built in the late 18th century for the family of one of Brewster's pre-eminent Sea Captains, this charming B&B offers elegant guest rooms featuring four-poster beds, private attached baths, fireplaces, air conditioning, and cable TV.
Guests can dine either in the beautiful dining room, the spacious deck, or on the screened porch. Full breakfast is included. more...
---
Where to Eat in the Town of Brewster

Perhaps the best-known restaurant in Brewster is Chillingsworth, which offers contemporary French cuisine in both their elegant dining rooms, as well as the more casual bar and lounge setting.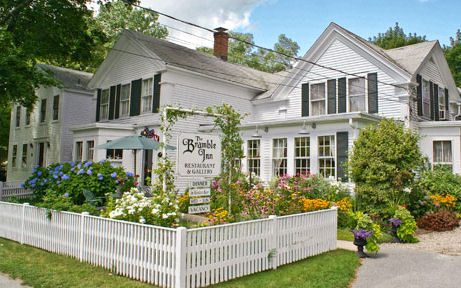 The Bramble Inn on Main Street recently won the Cape Cod Life Editor's choice award for most romantic restaurant. The various dining rooms are very intimate with some looking out over the beautiful gardens. The dining experience is upscale with most diners typically dressed up for the occasion.
The Brewster Fish House is a highly acclaimed seafood restaurant that used to be a retail fish market and has now established itself as a firm favorite among locals and visitors alike.
See more Cape Cod Restaurant recommendations.
---
Sporting Couples

Brewster is home to the Brewster Whitecaps, of the Cape Cod Baseball League. The Whitecaps are one of the "youngest" of the Cape Cod League baseball teams, having joined the league in 1988, along with the Bourne Braves. Home games are played at Stoney Brook Field, which is located behind the Stony Brook Elementary School on Underpass Road and are always a terrific way to spend a late afternoon.

If your sport is golf, rather than baseball, one of the best golf courses on Cape Cod is located in Brewster, the Nicklaus Design golf course at Ocean Edge Resort and Golf Course. It's a private course, for use only by members and resort guests, and offers a challenging 72 par course with rolling landscapes and dramatic elevation changes.

Another award-winning golf course inBrewster is the Captain's Quarters, which is a public course offering 36 holes and all the amenities of a private club.
---
Return from Town of Brewster to Cape Cod Towns
Return from Town of Brewster to Cape Cod for Couples Home